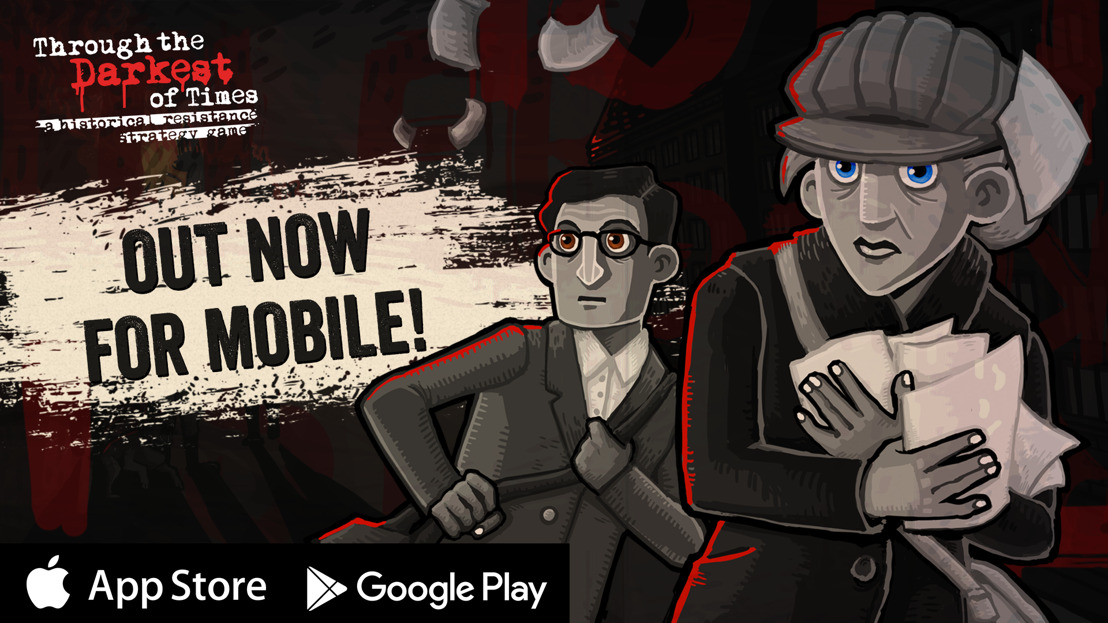 A serious winner on mobile out now
Through the Darkest of Times, the "Best Serious Game 2020" is now available on the Apple AppStore and Google Play!
Berlin, Germany / Giebelstadt, Germany, May 7th, 2020: Leading a resistance group from your mobile device sounds simple enough, right? Organize a protest, paint a few paroles on walls, collect donations... But here's a promise: It won't be easy. Because it wasn't.
​
​They were dark times. 1933, the unforgettable announcement: "Hitler is Chancellor!" has changed the lives of ordinary people, from Jews to Catholics and Communists to Patriots who simply couldn't stand aside. As we all know, this message brought hardship and injustice for many. Every choice has an impact on your next steps, buying paper is dangerously suspicious and painting paroles on walls could get you arrested or even cost your head. Face the odds and make a stand, make a difference! Fight the Nazi regime, keep your group's morale up and most important: Survive!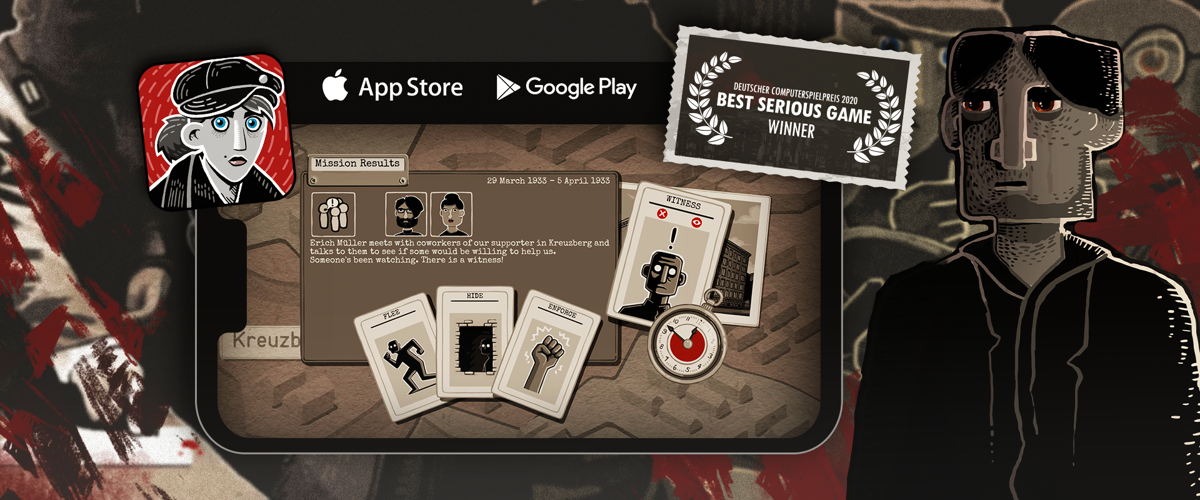 ​This is the setting of Through the Darkest of Times from Paintbucket Games. You are the leader of a small resistance group in 1933's Berlin. The goal is to deal small blows to the regime – dropping leaflets to spread awareness about what the Nazis are really up to among the people, painting messages on walls, sabotaging, gathering information and recruiting more followers. And all of that while staying undercover – if the regime's forces learn about your group, the life of each member is in grave danger.
Get Through the Darkest of Times here:
Link to Apple AppStore
​Link to Google Play
Through the Darkest of Times is a HandyGames premium title for $7.99 / € 7,99 / £ 6,99. There are no ads, micro transactions, loot boxes or other gambling mechanics. One price, one great game.
Mobile Screenshots:
About Through the Darkest of Times:
Through the Darkest of Times is a historical resistance strategy game. Its focus lies on conveying the grim mood of the period and the very real struggles of average people living in the 3rd Reich. Historical accuracy means that a small group of resistance fighters will not change the outcome of the war, nor will they prevent all of the Nazi's atrocities, but they will certainly do everything in their power to save as many lives as they can and inhibit the fascist system whenever possible.
Features
Experience the Darkest of Times in 4 chapters

Fight for freedom, weaken the regime and lead your resistance group

Plan activities, find collaborators and try not to get caught

Feel the weight of responsibility as you make difficult decisions and face the dire consequences

Beautifully illustrated expressionistic scenes and events
Through the Darkest of Times is developed by Berlin-based Studio Paintbucket Games and is published by HandyGames, a THQ Nordic family member.
Find all our graphics and current trailers in our PRESS KIT
Regular Livestreams
We currently stream Through the Darkest of Times a lot to immerse ourselves back in time at 1933 and showcase some special features. Check out all our streaming platforms to see our decisions and get exclusive live stream tips for the gameplay.

About Paintbucket Games:
​Paintbucket Games was founded by two ex-AAA developers, Jörg Friedrich and Sebastian St. Schulz, to be able to make more relevant games. They met at YAGER, while making Spec Ops The Line, and also worked together on Dead Island 2, Dreadnought, Albion Online, Drakensang, Yager (the game), Desperados 2 and others.
Both have been making games for more than 14 years and have worked 10 of those years together. Since 2018 they are being published by HandyGames and the size of the TTDOT team has since increased in size.

HandyGames Publisher