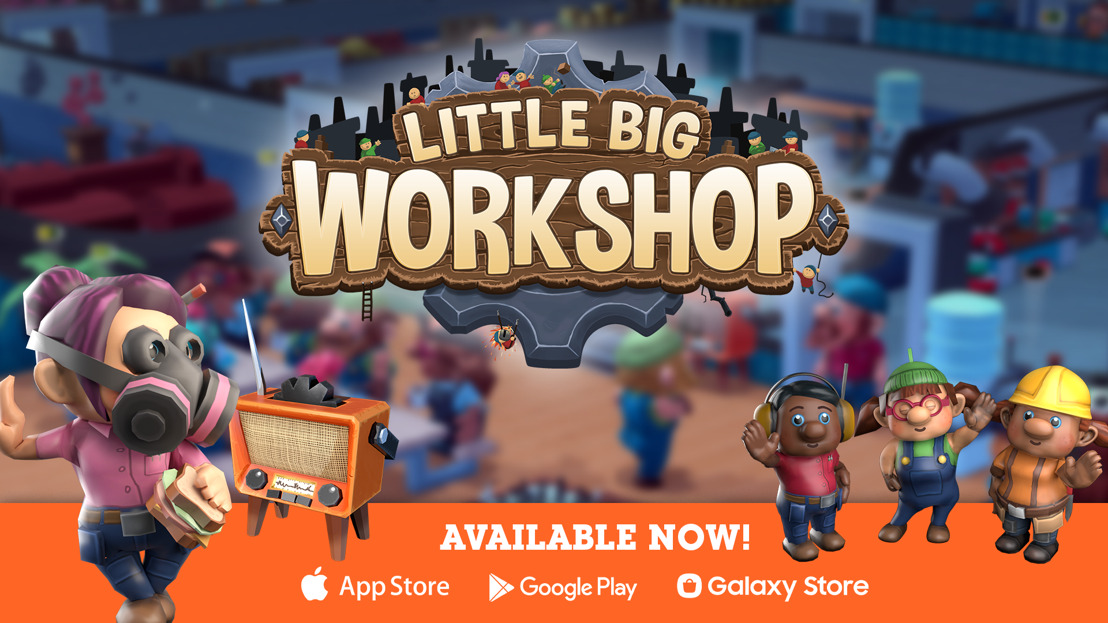 Can you fit a factory in your pocket?
Little Big Workshop is available NOW for your mobile devices
Giebelstadt, Germany, June 13th, 2023: It's time for the successful factory management game to move its tiny workers from the big screen to your mobile device. Get Little Big Workshop today on the Apple App Store, Google Play, and the Samsung Galaxy Store, and start running your factory floor in the palm of your hand.

In Little Big Workshop, you start as the boss of a charming tabletop workshop that you can gradually expand to a massive desk-filling factory. Hire and train workers, plan, upgrade, and adapt your production line and finally deliver your goods to your esteemed customers. You'll have more than 50 unique product types available, assembled from multiple parts and raw materials. In this sandbox the choice is yours!
Features:
Four unique industries fully simulated

Focus on practical problems, not on values, economics, or logistics

Organize all steps of the production on a blueprint

Factories grow as you unlock more desk space

Day/Night-cycle with simulated working time

Take care of your workers! Work them too hard and they may turn on you

Cute model-town art-style
Little Big Workshop is available NOW on the Apple App Store, Google Play, and Samsung Galaxy Store. The game will launch on mobile devices on June 13th, priced at USD 9.99 / € 9,99 / £ 8.49. Don't miss the chance to build your own factory empire on the go!
Apple App Store | Google Play | Samsung Galaxy Store
---
About Mirage Game Studios
​Mirage Game Studios is a game development company located in sunny Karlstad, Sweden. The company was founded by four avid gamers with roots in the area in collaboration with THQ Nordic during the fall of 2016. The team and the game have grown quite a bit since then, both in scope and capabilities. It currently consists of seven people, a merry mix of game enthusiasts from different walks of life.

HandyGames Publisher