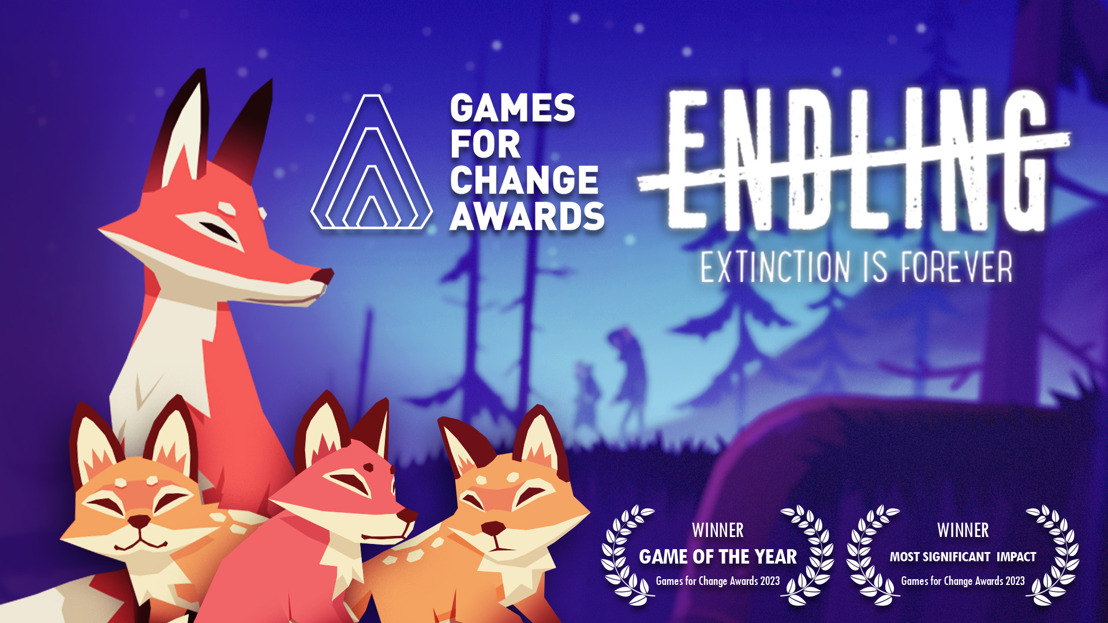 Celebrating the silent message
Endling - Extinction is Forever received an impactful birthday present
Barcelona, Spain / Giebelstadt, Germany, July 19th, 2023: It is with great honor that we would like to announce that Endling – Extinction is Forever has won the awards for "Most Significant Impact" and "Game of the Year" at this year's Games for Change Awards. This event celebrates the people, projects, and organizations that have set out to make a meaningful difference. This year marked not only the 20th anniversary of Games for Change but today is also the first anniversary of Endling's release, making these awards the best birthday present we could have imagined.

Yes, it's been one year already since Endling – Extinction is Forever was first released, and what a year it has been. More than the many accolades bestowed upon our game, the genuine responses by the players who were moved by the heart-wrenching tale of our mother fox and her cubs made it all worthwhile. Knowing that we were able to touch the hearts and minds of people is the most significant award of all.
Bringing awareness to a dire situation through a different perspective, not by lecturing, is where the true success of Endling lies. No words were required to convey the message, only emotions we all share in the face of a possible future. As long as we can feel empathy for the struggles of the world around us, there is always hope for a better tomorrow.
Endling - Extinction is Forever is available now on:
STEAM | EPIC Game Store | GOG | PlayStation | Xbox | Nintendo Switch | Google Play | Apple App Store | Samsung Galaxy Store
For more information about the game, please visit https://handy-games.com/games/endling.
Get the Endling – Extinction is Forever press kit here!
About Herobeat Studios
​Herobeat Studios is an independent video game studio based in Barcelona, Spain. The team comprises former colleagues with a wide range of experience in video game development. All team members share a deep concern about environmental issues and animal welfare. This inspired them to join forces and create something meaningful that explores these issues.

HandyGames Publisher