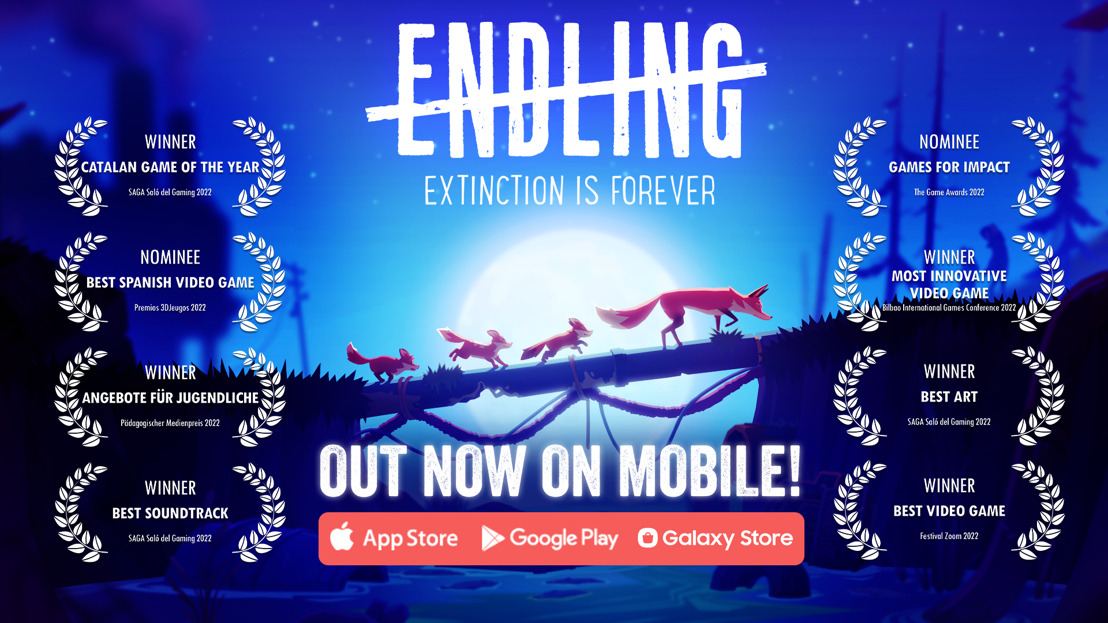 Endling — Extinction is Forever Mobile is Out Now!
Award-Winning Fox Game Available on iOS and Android
Barcelona, Spain / Giebelstadt, Germany, February 7th, 2023
​HandyGames and Herobeat Studios' award-winning survival simulation, in which you experience the life-or-death struggles of the last fox family on earth, is available for iOS and Android. This 1:1 premium port will feature everything the PC and console versions offer and be priced at $/€9.99. Get it on the App Store, Google Play Store, or Galaxy Store today!
About Endling – Extinction is Forever
Endling – Extinction is Forever takes place in a plausible near future. Humankind has altered the biosphere to the degree that makes it harder and harder to sustain animal and plant life. Even humans struggle to breathe. In this horrendous quasi-apocalyptic scenario, you – as the player – take control of the last mother fox in this dying world. You are now fighting for survival, not only your own but the survival of your cute, clumsy cubs who depend on their mother to bring them food.

Praise:
For its outstanding, gutwrenching story, underlying message, and its lovely art style and soundtrack, Endling – Extinction is Forever has won several prestigious awards and was even nominated at The Game Awards 2022.
​Between all these and 96% positive Steam reviews for the PC version, we're confident that you'll fall in love with the vixen and her cubs just as much as we did. Just know that you should prepare to feel a bunch of feelings!
Features:
Explore devastated environments based on current factual issues

Hunt other animals to feed your cubs and avoid becoming the prey

Put your survival instinct to the test and get involved in emotionally taxing decisions

Find new shelters to be safe from natural and unnatural threats

Care for your kits, feed them, and teach them new skills to make them less vulnerable
Mobile Features:
Controller support

Touch controls with customizable UI

Cloud Save
About Herobeat Studios
​Herobeat Studios is an independent video game studio based in Barcelona, Spain. The team comprises former colleagues with a wide range of experience in video game development. All team members share a deep concern about environmental issues and animal welfare. This inspired them to join forces and create something meaningful that explores these issues.
Get the Endling – Extinction is Forever press kit here!

HandyGames Publisher