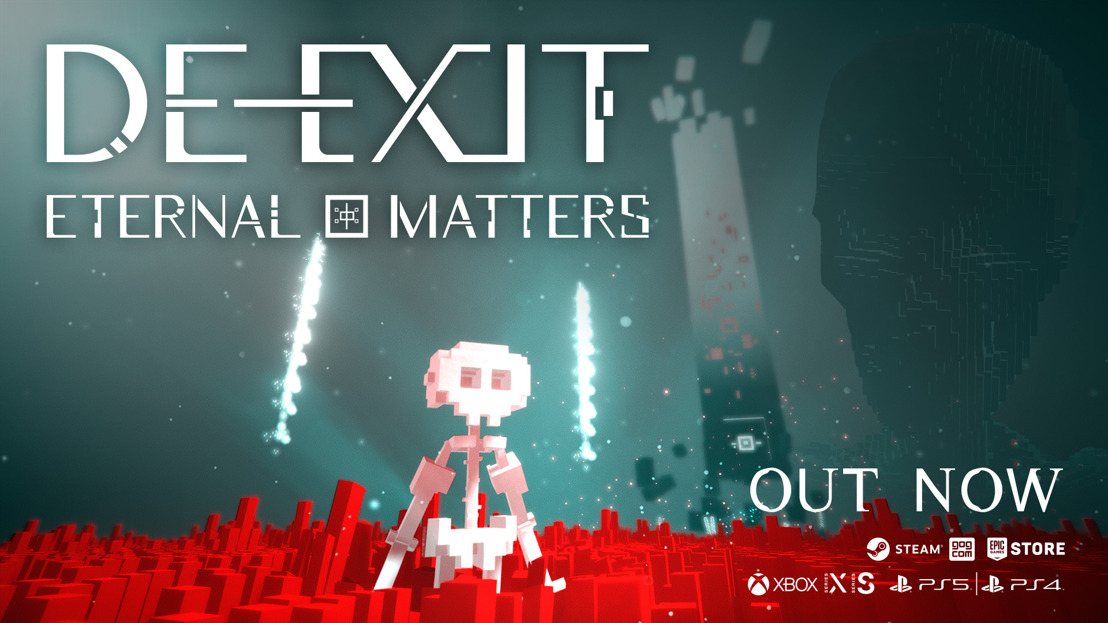 Explore the cinematic afterlife in indie adventure DE-EXIT - Eternal Matters, now out on PC and Console
Discover your purpose and experience life after death in the Plane of Memory
Barcelona, Spain / Giebelstadt, Germany. 14th April 2023: Cinematic narrative adventure DE-EXIT - Eternal Matters releases today on PC, PS4, PS5, Xbox One, and Xbox Series X/S. From the award-winning international publisher of Endling - Extinction is Forever HandyGames, and Barcelona-based developer SandBloom Studio, DE-EXIT - Eternal Matters reanimates players into a surreal voxel world to show them how much there is to learn from death.

Influenced by cultures from across the world, DE-EXIT invites players to explore the importance of life, death, and the afterlife. In the Plane of Memory, players will uncover secrets beyond the veil and find out what awaits beyond. Embark on a heartwarming ode to life, encounter friends to guide you along the journey, and evade loose-jointed foes that wish to stop you in your tracks. Traverse harsh and cold environments, and find comfort in the warmth of the Nexus — the last safe haven.
With a focus on single-player cinematic story-telling, DE-EXIT will challenge players to hone their skills in stealth and analyze their surroundings to solve puzzles in order to avoid the undead skeletons that occupy the world. Although players enter the world as a mere skeleton, they will soon find themselves a savior, decorated in armor that signifies their journey through the afterlife.
Gameplay Features:
Surreal Cinematic Experience - DE-EXIT adopts a minimalistic voxel aesthetic to paint a vibrant picture of an afterlife, further enhanced by cinematographic design, motion capture animation, and realistic VFX
Ponder Death, Loss, and Memory - Take on the role of a recently departed soul and experience a story that isn't afraid to ask questions about loss and what lies beyond our mortal existence
Intricate Friends and Foes - Create connections with complex characters experiencing unique stories, and navigating diverse motivations. Adventure alongside them or face them in combat as you seek to save the Plane of Memory
Interactive storytelling - Seek out pieces of lore, experience thrilling action scenes and stealth, and solve puzzles to unravel the shroud of mystery resting on this otherworldly realm
"Death is so often depicted negatively in the media, and we wanted to offer a new insight on the matter and to invite players to view death from a perspective that is not explored as often. The development of DE-EXIT - Eternal Matters has been shaped by people from various backgrounds and cultures, and we hope players will see and appreciate this throughout the story. We hope players will love DE-EXIT as much as we loved creating it." ​
- Julien Gatumel Fernandez, Narrative Designer at SandBloom Studios
DE-EXIT - Eternal Matters is available now on PC via Steam, GOG, and the Epic Games Store, as well as PS4, PS5, Xbox One, and Xbox Series X/S for €19.99 EUR. You can find the DE-EXIT press kit here.
Additionally, players can try a one-hour free trial of DE-EXIT - Eternal Matters on Xbox and PlayStation consoles.
About SandBloom Studio
Based in Barcelona, Spain, SandBloom Studio is a small development team behind the challenging action-adventure platformer EMMA: Lost in Memories and the upcoming narrative adventure DE-EXIT - Eternal Matters. The studio's goal is to create games that combine entertainment with a message that will accompany players for years to come, crafting experiences that provoke thought and bring something more to the table.
Find out more on their official website or follow SandBloom Studio on Twitter, Facebook, Instagram and Youtube.

HandyGames Publisher