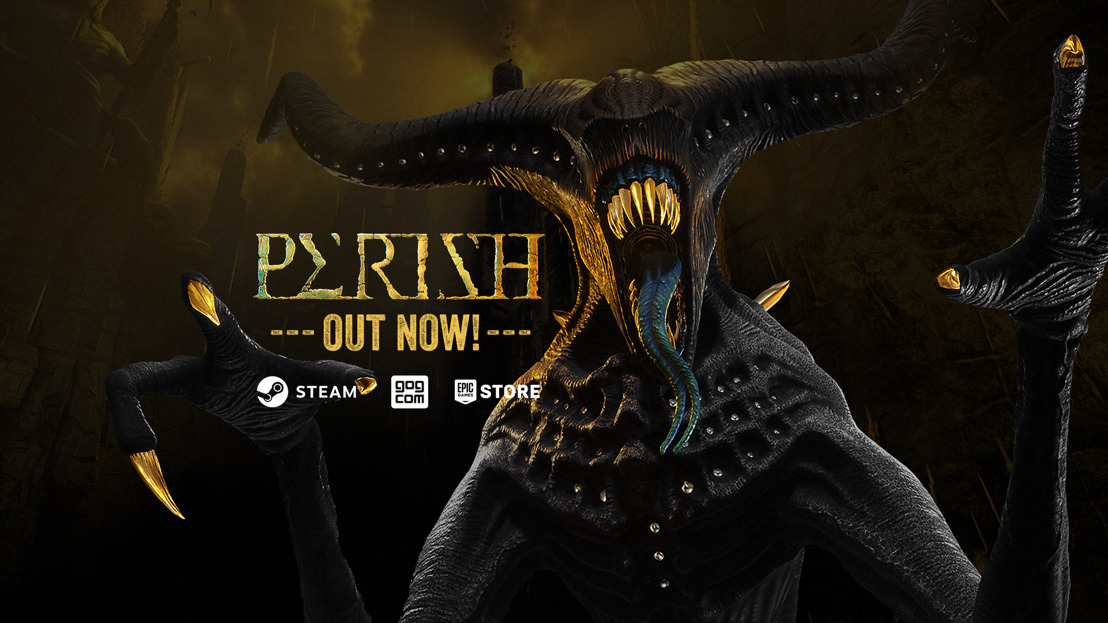 PERISH Purges Arcane Hellspawn on PC Today
PlayStation 5|4, Xbox Series X|S, Xbox One Versions Wreak Havoc Later This Year
Giebelstadt, Germany / Brighton, UK – Feb. 2, 2023 – PERISH, the first-person solo and co-op shooter inspired by classical mythology from developer ITEM42 and publisher HandyGames, escapes the underworld and infiltrates PC via Steam, Epic Games Store, and GOG today. Players will be able to test their fates on PlayStation 5|4, Xbox Series X|S, and Xbox One consoles before the end of 2023.
Set forth as Amyetri, a corporeal spirit condemned to live a shadow life in the halfway realm of Purgatory. Armed with nothing but a broken sword, Amyetri must escape a dark eternity.
Slaughter cultic spirits and bestial creatures to the riffs of a heavy-metal soundtrack. Press onward throughout the holy domain of Elysium, traversing daunting paths littered with lifeless bodies and undying enemies ready to return Amyetri to the darkness.
Abolish hordes of undead and rare colossal deities in epic boss battles. Raid corpses to gather gold danake. Meet with the high priestess to exchange danake for more than 10 handcrafted and ornate weapon types including javelins, swords, bows, and guns, each with its own unique and upgradeable offensive capabilities. Deposit the blood-soaked currency into the Pantheon or risk losing it all upon death. Reap the spoils of combat and carry on through collapsing cliffs, decaying labyrinths, and fiery pits.
Overcome a never-ending slew of soulless fiends through molten lakes of gold and shattered mountains alongside up to three friends. Enable co-op specific gear and gadgetry to support, defend, and revive teammates while battling eternal oblivion. Face the perilous onslaught of desolate souls that covet the passage of absolution and institute co-op tactics to best the kingdom of Elysium.
"With our first game release, we wanted to develop a new yet familiar gameplay experience that could be enjoyed with friends," said Regan Ware, Co-Founder, ITEM42. "We meticulously hand-crafted an exciting realm inside of PERISH filled with mythology, genres, artwork, and music we love. We are proud to finally share this experience with the world!"

PERISH is available now for $19.99/€19.99 on PC via Steam, Epic Games Store, and GOG. PlayStation 5|4, Xbox Series X|S, and Xbox One versions will arrive later this year. For more information, follow @ITEM42 and @Handy_Games on Twitter, join fellow souls on their way to Elysium on Discord, and check out the official PERISH website.
About ITEM42
ITEM42 is a development studio headed by brothers Regan and Bret Ware from Brighton, UK. The duo strives to make unique and inspiring game worlds using their years of programming and art experience from clients as diverse as ISG and Spotify to Jaguar Land Rover. PERISH, the studio's first project, features an original heavy metal soundtrack to perfectly pair with the game's dark, mythological universe.
About HandyGames
HandyGames is an international indie games publisher and developer, a THQ Nordic Company and part of Embracer Group. Established in 2000 with hopes to bring high-quality gaming to handheld devices, the team has since expanded its efforts to more platforms, no matter if PC, Console or Streaming. Its ever-growing colorful portfolio of games across all platforms includes Spongebob Squarepants: Battle for Bikini Bottom Rehydrated, Little Big Workshop, El Hijo - A Wild West Tale, and The Game Awards 2022 nominee Endling - Extinction is Forever.
To learn more, visit the official HandyGames website.
Media Contacts
Kaylah Humphrey / Eliott Garcia
Stride PR for HandyGames
[email protected] / [email protected]