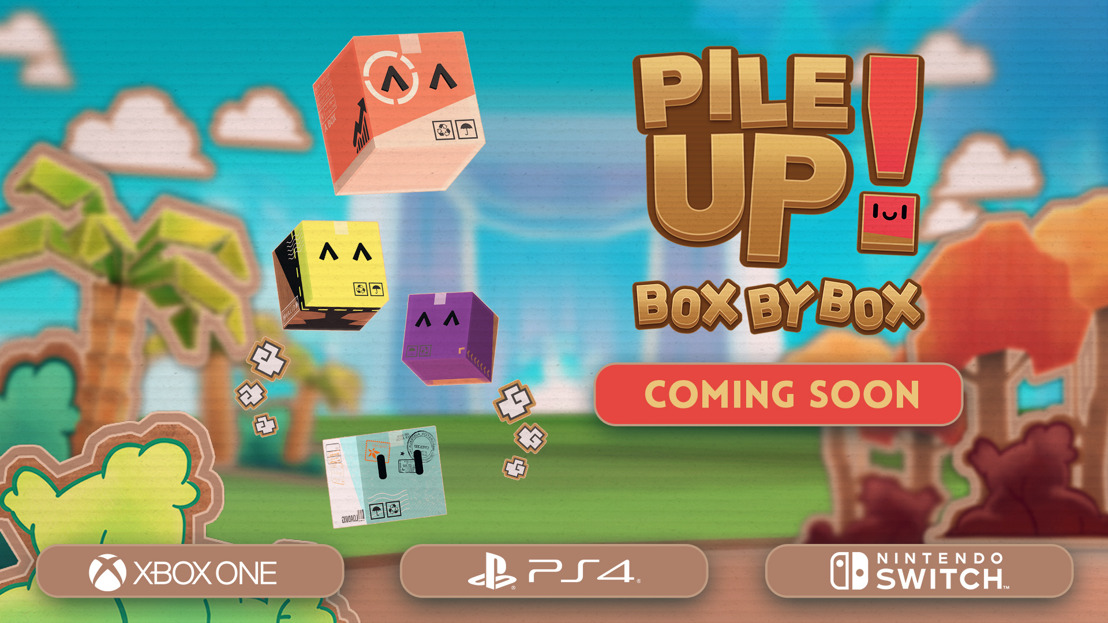 Watch out! "Pile Up! Box by Box!" for consoles is coming soon!
This is a nice package! HandyGames unboxes delivery date for console-versions of family-friendly coop 3D platformer!
Giebelstadt, Germany, July 6th, 2021:
​Long have you waited, but now the time has come! No longer is this family-friendly cooperative 3D platformer limited to the confines of the PC-gamer. Now you can experience the full power of this fully boxed cardboard platformer on your couch or on the go!
​
​Now, it is up to you! Become a Boxling to experience family-friendly co-op adventures and unfold mysteries while solving puzzles and quests as a team in your unique way! Explore a colorful world made entirely of cardboard together, as you visit the friendly citizens of sun-baked islands, amber forests, and vibrant caves!
Pile Up! Box by Box! is coming to Microsoft Xbox, Sony Playstation® and Nintendo Switch™ on August 17th, 2021!
Preorder now on Microsoft.com!
About Pile Up!:
Coordinate with your friends or rely on your own creativity to navigate cardboard worlds full of uniquely joyful levels. Unfold mysteries, solve puzzles and quests as a team and visit the friendly citizens of sunbaked islands, amber forests, and magical caves. Or maybe just kick back and challenge your friends in action-packed rounds of Boxball, Pile of Dunk, or Tic Pile Toe? The development of Pile Up! Box by Box was supported by CNC and New Aquitaine.
About Seed by Seed:
Seed by Seed is an independent game development studio, based in Angoulême, France, created to bring the coop game Pile Up! Box by Box to life. We were brought together by the love of shared breakfasts, cute plants surrounding us, and carefully handcrafted video games. We want to share this love with others, and we have chosen to combine our talents to create soft, fun, friendly games, games that remind people why everybody loves to play with their loved ones.
Features:
Go on an adventure: Explore colorful cardboard worlds in this cute 3D platformer. Find your way through countless levels, uncover mysteries and bring joy to the cardboard inhabitants of these places.
Local Multiplayer: Play with your friends with up to 4 players! Drop-in and out at any time with dynamic challenge rescaling.
A game for everyone: Anybody can play Pile Up! The chill-paced game has simple controls, no punishment for failure, and no time pressure. And remember that teammates can always help each other!
Teamwork: Cooperate to progress! It's all about communication and organization. Share the tasks, synchronize your moves and carry each other to overcome the challenges.
Minigame Frenzy: Face your friends in frantic minigames and lead hilariously chaotic battles. For party game lovers!
Creativity is key: Think outside the box and solve the puzzles your own way. There is no unique solution, creativity is the key! The sky is the limit! Build stairs and structures with the boxes you collected.
Optimize your strategies: Unlock the timer mode and test your skills at piling up boxes. Find the best strategy and the quickest way to progress through the worlds.
Download our presskit here:
https://media.handy-games.com/Pile_Up/

HandyGames Publisher