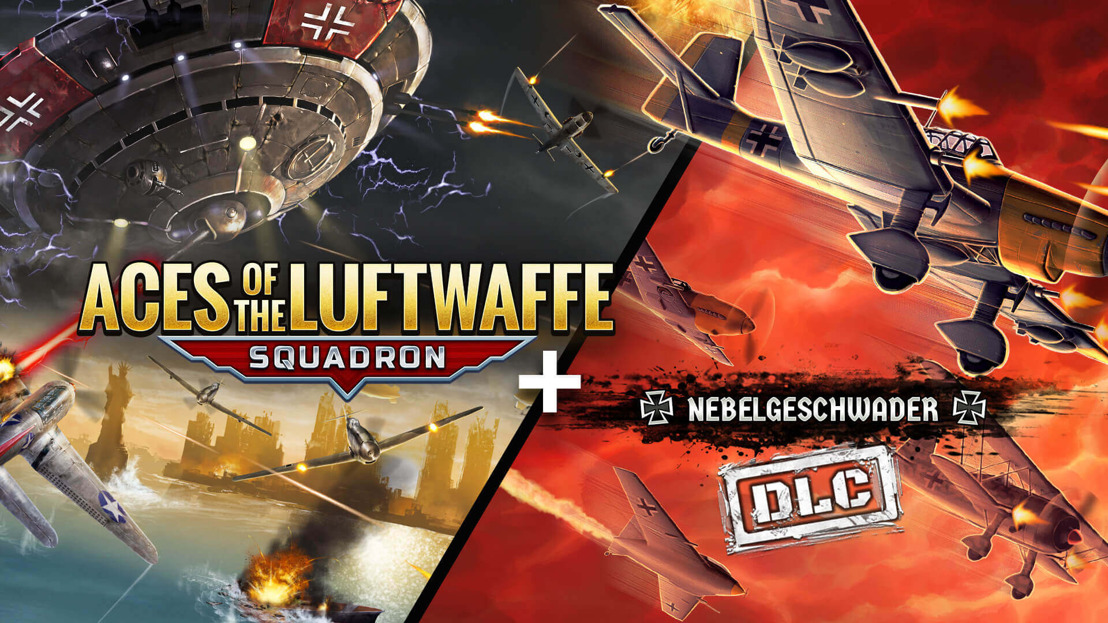 Acing in Retail: Aces of the Luftwaffe Extended Edition landing today
Get Aces of the Luftwaffe Squadron and the Nebelgeschwader add-on in one fine package
GIEBELSTADT*, Germany, February 26th 2019: A box full of Shoot 'em up excellence comes to a retail store near you or your favored online store today, as Aces of the Luftwaffe - Squadron Extended Edition is landing on Nintendo Switch™, PlayStation®4 computer entertainment system and Xbox One series of devices including Xbox One X. The SRP for the PlayStation & Xbox Edition is 19.99 $, the version for Nintendo Switch prices at 29.99 $.
The Extended Edition features Aces of the Luftwaffe Squadron, where you & your squad of pilots stand against a Nazi-Invasion of the US-Homeland. During the campaign, you'll visit 25 levels, face six spectacular boss encounters and shoot down thousands of German airplanes, while experiencing the the captivating storyline.
The Nebelgeschwader add-on lets you switch sides: You are now part of the German elite squadron and shall bring doom to the american forces. But soon you'll find out, you are only being used for cruel intentions - a fact you can't stand as honorable pilots. The add-on doubles the content of the base game - another 25 levels, all new airplanes & skills to unlock, an additional campaign and six astounding boss fights are waiting for you. For you and some friends, if you like. Aces of the Luftwaffe features a local co-op multiplayer mode for up to 4 players. Of course, the game is fully voiced and and epic, movie-like orchestral soundtrack will provide a fantastic SHMUP-experience. ​
*Fun Fact: Did you know, that Giebelstadt was indeed an airbase during World War II, where the german Airforce secretly tested the Messerschmidt ME 262 and ME 163, the first jet planes ever? After the War, Giebelstadt Airfield was operated by the US Airforce & US Army until 2006.
---
About Aces of the Luftwaffe Squadron – Nebelgeschwader
​AOTLS-N is an action-packed DLC campaign with a fully voiced narrative. Experience 25 new levels, defeat waves of enemies, take on six brand new epic bosses and upgrade each of the unique characters in your squadron via personal skill trees. But don't go to war alone! Experience the thrilling storyline with up to three friends in an epic 4-player local co-op battle.
Action packed shoot-'em-up with explosive special effects

Captivating storyline with fully voiced characters

Epic co-op multiplayer for up to four players

25 new levels and exciting missions

Six brand new spectacular boss fights

Skill trees with new individual abilities for each wingman

Challenging achievement system

Creative haptics for gameplay and cutscenes

Epic, movie-like orchestral soundtrack
Find Aces of the Luftwaffe Squadon Extended Edition on Amazon.com:
amazon.com/Aces-Luftwaffe-Squadron-Nintendo-Switch/dp/B07MK34KZG

Florian Emmerich PR Manager, HandyGames