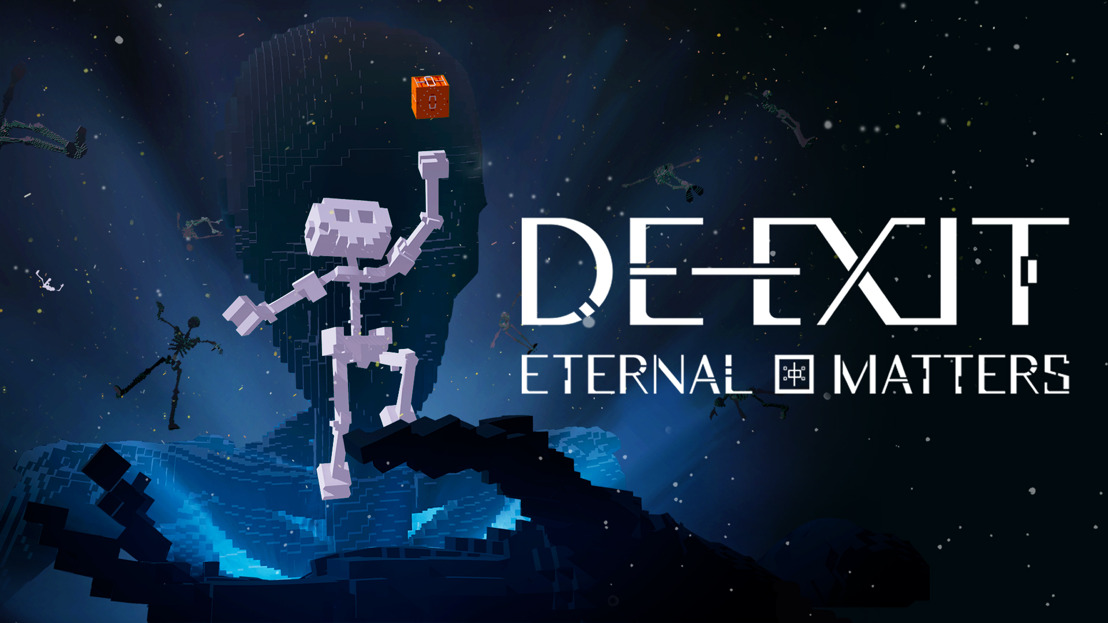 Embark on a surreal journey through the afterlife this spring in DE-EXIT - Eternal Matters
HandyGames shares exciting new trailer and release window for their upcoming voxel platformer during IGN Fanfest
Giebelstadt, Germany. 17th February 2023: International indie publisher HandyGames and Spanish developer SandBloom Studios are excited to reveal the release window for DE-EXIT - Eternal Matters, an atmospheric narrative adventure set in a warm voxel world. Coming Spring 2023 to PC, PS4, PS5, Xbox One and Xbox Series X/S, DE-EXIT will take players on a cinematic journey through the afterlife to discover the secrets of a mysterious new world.
You may be dead, but death isn't always the end. In DE-EXIT, players will awaken in the beautiful yet surreal Plane of Memory, a world full of unexpected encounters. They will embark on a journey full of fascinating allies and foes, learn and rest in warm environments, and explore and hide in cold ones. The goal? Discover the purpose of your journey, and take a moment to reflect on what lies beyond death.
Features:
Cinematic voxel experience - DE-EXIT embraces the clash of minimalistic voxel aesthetic and simple textures alongside complex cinematographic features, more realistic VFX, and even motion capture animation.
Journey into a new world - Begin a voyage full of questions, and broken worlds but hopeful people. Discover what happened to the Plane of Memory and help fix it.
Reflection on death and the afterlife - DE-EXIT opens the discussion around life after death, inviting players to enjoy a heartwarming ode to life.
Interactive storytelling - Set out in a thrilling journey where puzzles, stealth, platforming, and action work as tools to reinforce cinematography, story, and setting.
DE-EXIT - Eternal Matters arrives Spring 2023 on PC via Steam, GOG, and the Epic Games Store, as well as PS4, PS5, Xbox One and Xbox Series X/S. Wishlist DE-EXIT now to stay up to date with the latest news. You can find the DE-EXIT press kit here.

About HandyGames
HandyGames is part of the THQ Nordic and Embracer Group family and operates as an international publisher for mid-sized projects and developers for a worldwide audience. HandyGames is an award-winning company that has produced and published games in a variety of genres for a diverse range of audiences and gameplay styles. Truly passionate about gaming, HandyGames strives for gameplay innovation, and has previously published titles such as Endling - Extinction is Forever, El Hijo, Townsmen, Scarf and more.
About SandBloom Studio
Based in Barcelona, Spain, SandBloom Studio is a small development team behind the challenging action-adventure platformer EMMA: Lost in Memories, as well as the upcoming narrative adventure DE-EXIT - Eternal Matters. The studio's goal is to create games that combine entertainment with a message that will accompany players for years to come, crafting experiences that provoke thought and bring something more to the table.

HandyGames Publisher