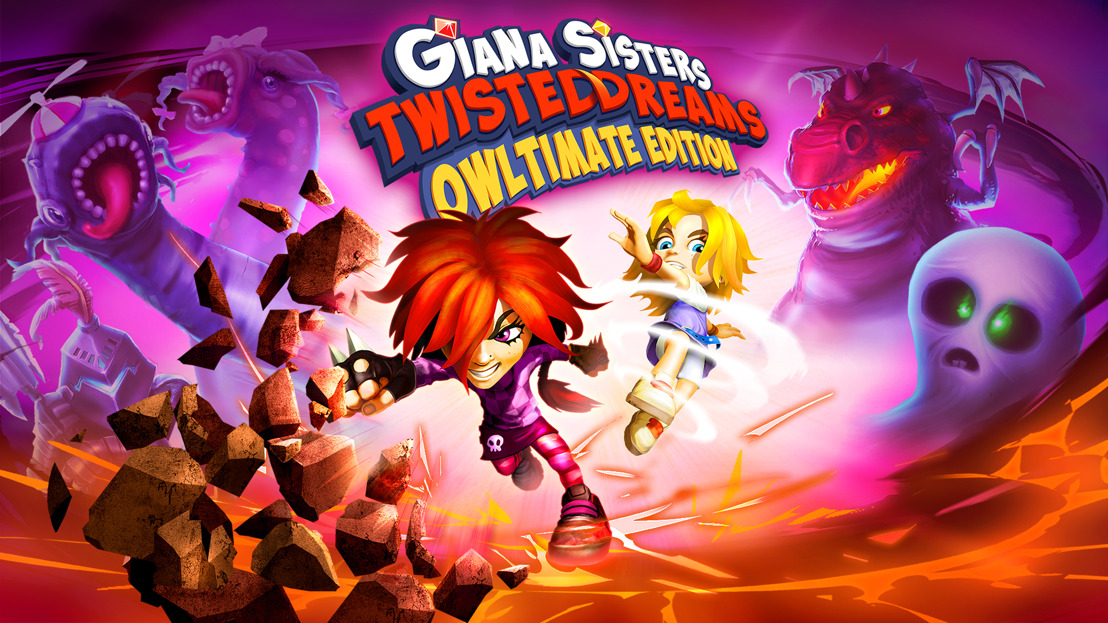 Giana Sisters: Twisted Dreams - Owltimate Edition out now on Nintendo™ Switch
Vienna, Austria, September 28th, 2018: The critically-acclaimed platformer Giana Sisters: Twisted Dreams is available now on Nintendo's entertainment system. The new "Owltimate Edition" features a ton of new and exciting content. The SRP is 29,99 € / 29,99 $ / 29,99 £.
The Owltimate Edtion contains the original Giana Sisters: Twisted Dreams as well as all existing DLC, including Rise Of The Owlverlord. But that's not all! Five brand-new levels and beautiful new story cutscenes between each level make this the best Giana Sisters outing ever. Also, renowned German video game music composer Chris Huelsbeck and Swedish band Machinae Supremacy have created new tracks for the game.
Developed by THQ Nordic's studio Black Forest Games, GSTDOE will be published by HandyGames, the latest family member of the THQ Nordic network. HandyGames will act as an independent publisher, focusing on small and mid-sized projects or third-party indie games.
About Giana Sisters: Twisted Dreams – Owltimate Edition
​Giana Sisters: Twisted Dreams offers classic 2D platforming fun in meticulously detailed 3D environments. Players can turn cute Giana into a punk version of herself at the press of a button, transforming the game's star, the soundtrack and even the world. This overhaul isn't merely cosmetic: Giana's punk persona is a critical to overcoming obstacles and solving particularly tricky situations. In her sweet incarnation, Giana whirls gracefully over obstacles and opponents, but when 'punked up' she smashes through stone blocks with mighty dashes and can master her environment by bouncing off walls. Key Features:
Impressive abilities: Negotiate tricky level design by wall-running, vaulting and smashing your way through the world, ignoring gravity in the process

Intuitive and precise controls: Giana's powers are numerous, but slick controls enable you to master her skills and pull off expert-level manoeuvres with ease

Jaw-dropping worlds: Fantastical, transforming 2D worlds drawn in sumptuous 3D come to life on Nintendo Switch

Explore and discover: Pick apart 40 thrilling, secret-filled levels brimming with challenges and surprises

Innovative gadgets: Navigate evolving landscapes by utilizing everything around you – fly with bubble gum bubbles, bounce on springs and supercharge your sprints via conveyor belts

Epic boss battles: Push yourself to the limits as you battle gigantic creatures from the depths of Giana's worst nightmares