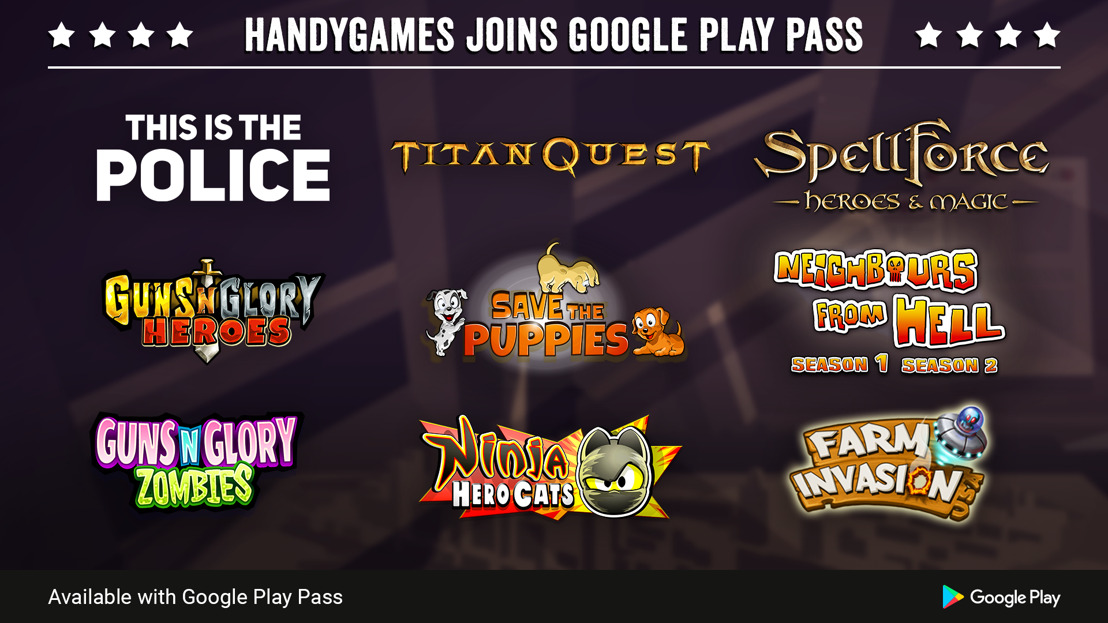 HandyGames to join Google Play Pass with a strong premium games lineup
Titan Quest, SpellForce, This Is The Police – german publisher adds 10 games to Google's subscription services
San Francisco, CA / Giebelstadt, Germany, September 23rd, 2019: HandyGames will offer 10 of its core premium games via the newly announced Google Play Pass. Players will get full access to the games when they subscribe to Google Play Pass, there will be neither in-app purchases nor ads.
This blends in perfectly with HandyGames strategy of releasing more and more premium titles on mobile devices.
"Thanks to titles like Titan Quest, This is the Police or Battle Chasers: Nightwar we were able to prove that console and PC quality games are available on your mobile device. Google Play Pass is offering passionate gamers of all ages a chance to find and check out those premium titles with a simple subscription model. HandyGames is a strong believer in mobile premium content and that's why we support this new opportunity with so many titles straight from the start." ​ Christopher Kassulke, CEO of HandyGames.
At the launch of Google Play Pass on September 23rd, players in the United States of America can subscribe for 4,99 $ / month and get instant access to the following HandyGames titles. More territories and more games are about to be announced.
---
Titan Quest
​You are that hero! Create your character, explore ancient civilizations like Greece, Egypt, Babylon, and China, and fight against hordes of legendary creatures!
---
This Is the Police
​This Is the Police is a strategy/adventure game set in a city spiraling the drain. Taking the role of gritty Police Chief Jack Boyd, you'll dive into a deep story of crime and intrigue.
---
SpellForce – Heroes & Magic
​Time for a new turn on the critically acclaimed SpellForce-Series. The epic fantasy saga is finally available on mobile devices, offering a whole new angle to the franchise.
---
Neighbours from Hell Season 1 & 2
​Creep around your neighbour 's house performing ever more elaborate tricks upon the unsuspecting resident.
---
Save the Puppies
​Be the HERO and rescue cute little doggy babies from their prisons. Embark on a unique puzzle adventure to 'Save the Puppies' from the grip of the mean dogcatcher!
---
Guns'n'Glory Heroes
​Sharpen your blades, polish your armor, focus on your magic and LOAD YOUR GUNS! Play the ultimate defense strategy game NOW!
---
Guns'n'Glory Zombies
​It's finally going down! The Zombie Apocalypse is here and the dead are rising from their graves. Lock and load your weapons and face the undead hordes.
---
Ninja Hero Cats
​Join the amazing Ninja Hero Cats in their brave battle against fish monsters from another dimension!
---
Farm Invasion USA
​UFO sightings at old Pops' farm! Use a huge arsenal of insane weapons to keep the aliens from stealing the corn harvest.
---
About Google Play Pass
​Google Play Pass is a new subscription service from Google Play offering access to a curated catalog of hundreds of awesome games and apps, completely free of ads or in-app purchases. Find more information on the official website of Google Play Pass
PR Contact:

Florian Emmerich PR Manager, HandyGames