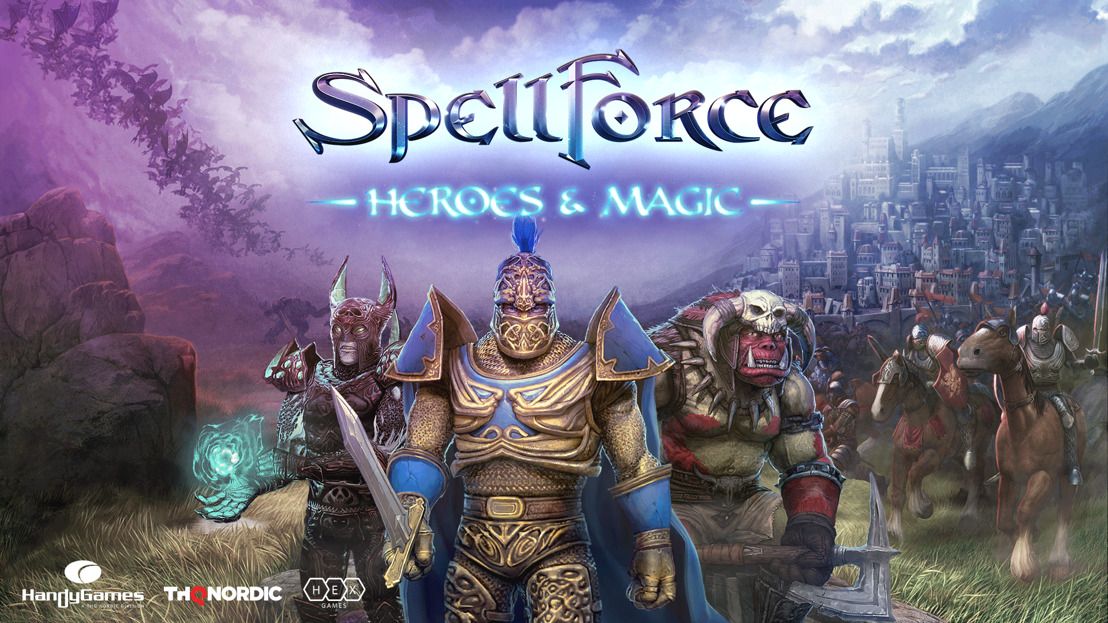 It's a kind of Magic: SpellForce - Heroes & Magic out today!
The turn-based fantasy strategy game is available now for iOS and Android
Giebelstadt, Germany, April 26th, 2019: It's your turn now! Start building your fantasy empire today, as SpellForce - Heroes & Magic is available now for mobile devices. So grab your sword, saddle your horse and while you are preparing to start your adventure, make sure to watch the new trailer to get into the right mood for conquering the lands of your enemies!
​
​Check out the new trailer on YouTube:
Choose wisely, what people you want to lead to glory and prosperity: The honorable Humans, the sinister Dark Elves or the fierce Orcs can't wait to forge their fortune under your banner. Meet other races like Dwarves, Trolls or Gargoyles and decide, if they are worthy allies or if you crush their forces on the battlefield. Conquer mines and quarries, discover hidden treasures, fight wild beasts and invade cities and make them part of your empire. ​
"SpellForce is one of our core franchises" says Reinhard Pollice, Business & Product Development Director THQ Nordic "With the expansion Soul Harvest for SpellForce III coming soon, we are happy that our colleagues at HandyGames are continuing to expand the franchise to mobile devices today. We hope that players on mobile devices enjoy the take on turn based tactics."
SpellForce -Heroes & Magic will be available for Android and iOS devices and follow HandyGames strategy of premium games. Buy once for 7,99 € / 7,99 US $ / 6.99 £ and there are no microtransactions, no lootboxes, no ads or any kind of free2play mechanics. Just a great game.
​
​Get SpellForce - Heroes & Magic for Android:
Get SpellForce - Heroes & Magic for iOS:
​https://tinyurl.com/SpellForceiOS
​
​About SpellForce - Heroes & Magic
​SpellForce - Heroes & Magic is a turn-based strategy game with deep RPG mechanics, set in the fantasy world of EO. The player controls one of three races, either Humans, Orcs or Dark Elves. The game is separated in two layers: the strategic, empire-building map, where your heroes and armies travel around, gather resources, fight monsters or enemy troops and conquer mines, farms or entire cities. When two armies meet on the battlefield, the game switches to a simultaneously turn-based tactics mode, where the player becomes a general and commands his units directly. SpellForce - Heroes & Magic offers over 45 different units, among them are Footmen, Knights, Archers, Catapults, Orc Shamans, Dark Elf Sorceresses and many more, each with their unique strengths and weaknesses and some with special abilities. Maneuvering on hexagons, the aim is to take down the enemy without suffering too many casualties. As your units gain XP, they level up and become stronger with each fight they win. Each heroes and unit can gather and equip different gear and choose new abilities from unique skilltrees. While upgrading and maintaining your armies, you also have to overlook your duties as an Lord of your ever-growing empire: Develop your cities, make sure the flow of resources rises and also extend your territory.
Features
Craft your own fantasy empire: Expand, Explore, Exploit and Exterminate. And no, we don't think it's a 4X game – do you?

Lead your heroes: Carry the battle to your opponents and defeat them.

A world of magic: Heroes and units can cast Lightning Strikes or Fear Spells, can stun foes or heal companions.

Simultaneously turn-based combat: Plan your armies' actions while your enemy does and execute them at the same time.

Items, level ups, skill trees: Individualize your army with fully fledged RPG mechanics.

3 playable races: Orcs, Humans, Dark Elves & their iconic heroes await your commands.

6 neutral races to ally with or fight against: Gargoyles, Shadows, Elves, Dwarves, Barbarians and Trolls are either loyal companions or fearsome enemies on the battlefield.

Over 30 different units to muster and to lead into combat.
---

Florian Emmerich PR Manager, HandyGames