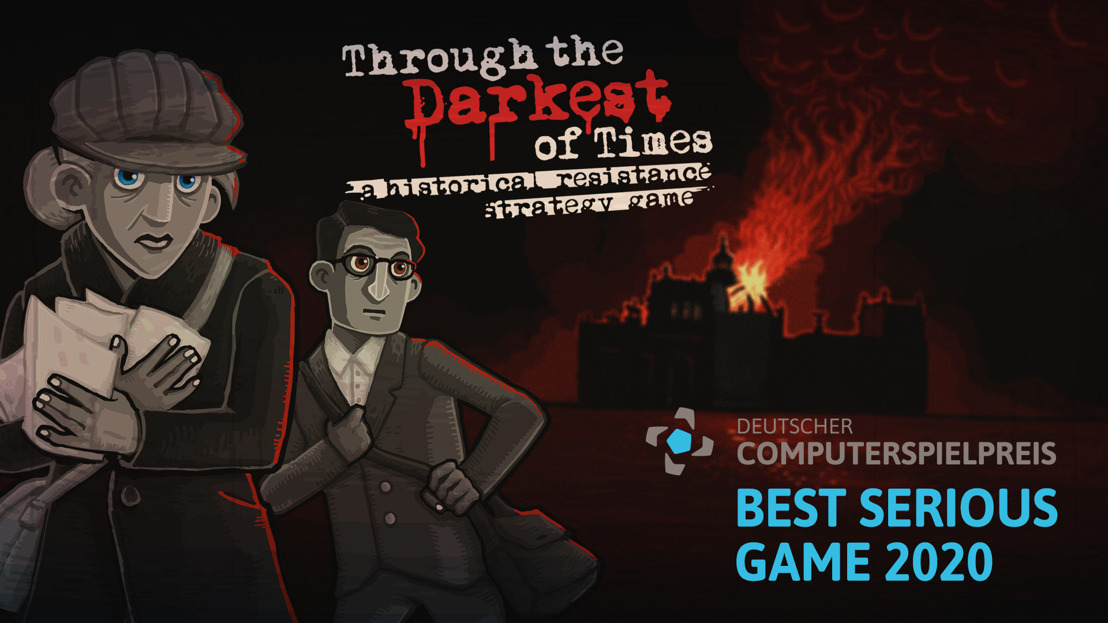 It's time to get serious!
Through the Darkest of Times wins "Best Serious Game" at German Computer Games Awards 2020
Giebelstadt/Berlin, April 28th, 2020: The dice have been cast and the stars have aligned, Through the Darkest of Times is a winner, baby! Yesterday, we managed to beat 315 other games at the German Computer Games Awards 2020, which is one of the highest honors a videogame can achieve in Germany. The winners were decided by a panel of 40 experts through none other but a group video call, and we managed to snag a prize!
We could not be more proud of our awesome partners Paintbucket Games and our team at HandyGames.
"Congrats to our friends at Paintbucket Games and our team at HandyGames! It is an honor to win this important award and I am proud to have such a historic must-have indie-title in our portfolio. Now it is our mission to reach as many gamers around the globe as possible with Through the Darkest of Times and we are working full-steam on delivering this German piece of art to all mobile, console, and streaming platforms." (Markus Kassulke, CEO HandyGames)
We would like to thank the panel of judges for recognizing the impact that Through the Darkest of Times has made on the German gaming scene. The narrative of the game is ever so important and that has been acknowledged not only by us but also by our nation. Through the Darkest of Times is the first game to legally depict swastikas and one of the only games to accurately depict the life of a resistance fighter in the times of World War II. We are grateful that we've had the opportunity to share the message of this game and the significance with the world. It goes to show that a solid partnership between developers and publishers can lead to something great!
"We are so happy to see our work now honored with this award! This game wouldn't have been possible without the lovely people from HandyGames who have supported us and our vision the entire time. " (Jörg Friedrich, CEO Paintbucket Games)
About Through the Darkest of Times:
Through the Darkest of Times is a historical resistance strategy game. The game's focus lies on conveying the grim mood of the period and the very real struggles of average people living in the 3rd Reich. Historical accuracy means that a small group of resistance fighters will not change the outcome of the war, nor will they prevent all of the Nazi's atrocities, but they will certainly do everything in their power to save as many lives as they can and inhibit the fascist system whenever possible.
Through the Darkest of Times is developed by Berlin-based Studio Paintbucket Games and is published by HandyGames, a THQ Nordic family member. The game was released on January 30th, 2020 for PC and MAC and was announced April 21st for mobile devices.
About Paintbucket Games:
​Paintbucket Games was founded by two ex-AAA developers, Jörg Friedrich and Sebastian St. Schulz, to be able to make more relevant games. They met at YAGER, while making Spec Ops: The Line, and also worked together on Dead Island 2, Dreadnought, Albion Online, Drakensang, Yager (the game), Desperados 2 and others. Both have been making games for more than 14 years and have worked 10 of those years together. Since 2018, they are being published by HandyGames and the size of the Through the Darkest of Times team has since increased in size.

HandyGames Publisher