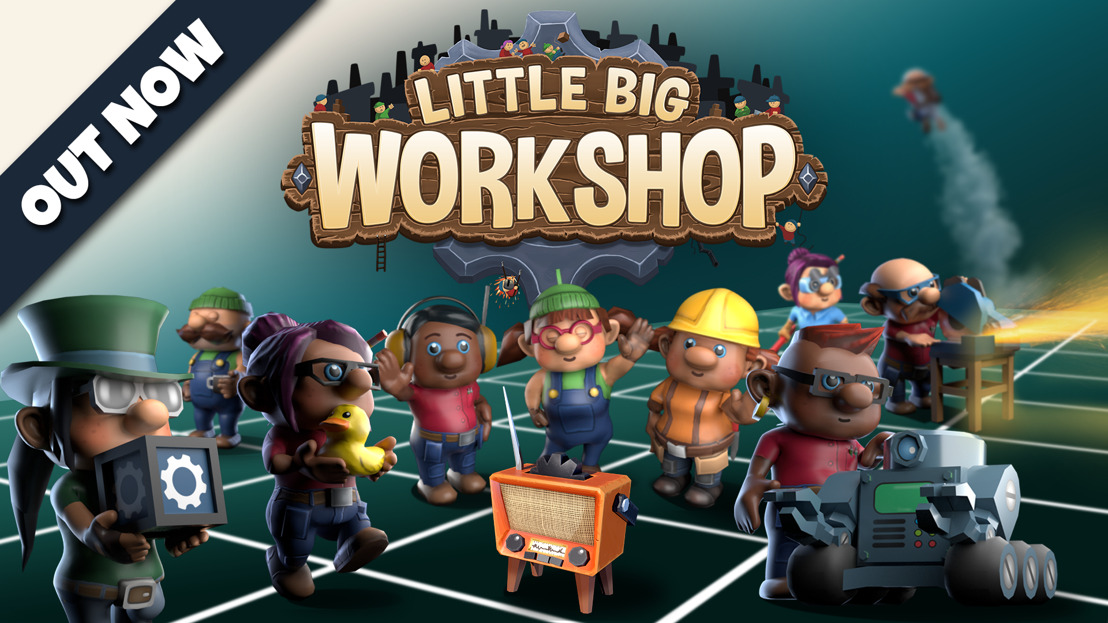 It's time to open shop
Little Big Workshop will be out today on Steam and GOG at 7PM CET!
Karlstad, Sweden / Giebelstadt, Germany, October 17th, 2019: The day has finally come! Mirage Game Studios are ready to release their very first game, Little Big Workshop, together with HandyGames today! The economic simulation, that has tiny workers laboring away on your living room table, offers a cute looking sandbox experience with all the depth and complexity to keep you playing for hours! As you take control of your tabletop startup factory, you will be tasked with taking orders, carefully planning your products, and growing your business to keep the money coming in. You can kickoff your tycoon career on Steam and GOG for only a tiny investment of $19,99.
Real factories - made FUN
​You are the Big Boss and it's time to take charge of your very own tabletop factory. Organize the factory floor, manage your workers, purchase machinery, and design efficient production lines - all within the time-limit and to your client's satisfaction!
An open-ended sandbox-experience
​Take it easy, it's a sandbox-experience where you think, ponder and poke at things until you get it to work the way you'd like. Supply products to clients and an ever-changing market, as you produce over 50 unique product types, built from multiple parts and pieces - all of which can be created with different materials and production methods. No two factories should ever look the same.
Tiny hands, big dreams
​Start out with just a small workshop and expand to a desk-filling factory. Unlock ever fancier machines, add even more production methods, and most of all, more room. Soon enough you'll be running multiple production lines, producing hundreds of advanced products each day, and watching with joy as your cute workers do the actual work.
Features:
Varying industries and a wide range of products

Focus on practical problems, not on values, economics, or logistics

Organize all steps of the production on a blueprint

Factories grow as you unlock more desk space

Fully simulated Day/Night-cycle

Take care of your workers! Work them too hard and they drop like flies

Cute model-town art-style
Little Big Workshop is developed by Mirage Game Studios for PC and MAC and is published by HandyGames. It is available starting today, October 17th 2019, on Steam and GOG for $ 19,99 / € 19,99 / £ 17,99
About Mirage Game Studios
Mirage Game Studios is a game development company located in sunny Karlstad, Sweden.The company was founded by four avid gamers with roots in the area during fall of 2016 in collaboration with THQ Nordic. The team as well as the game has grown quite a bit since then, both in scope and capabilities. It currently consists of seven people, a merry mix of game enthusiasts from different walks of life.
PR-Contact:

Florian Emmerich PR Manager, HandyGames