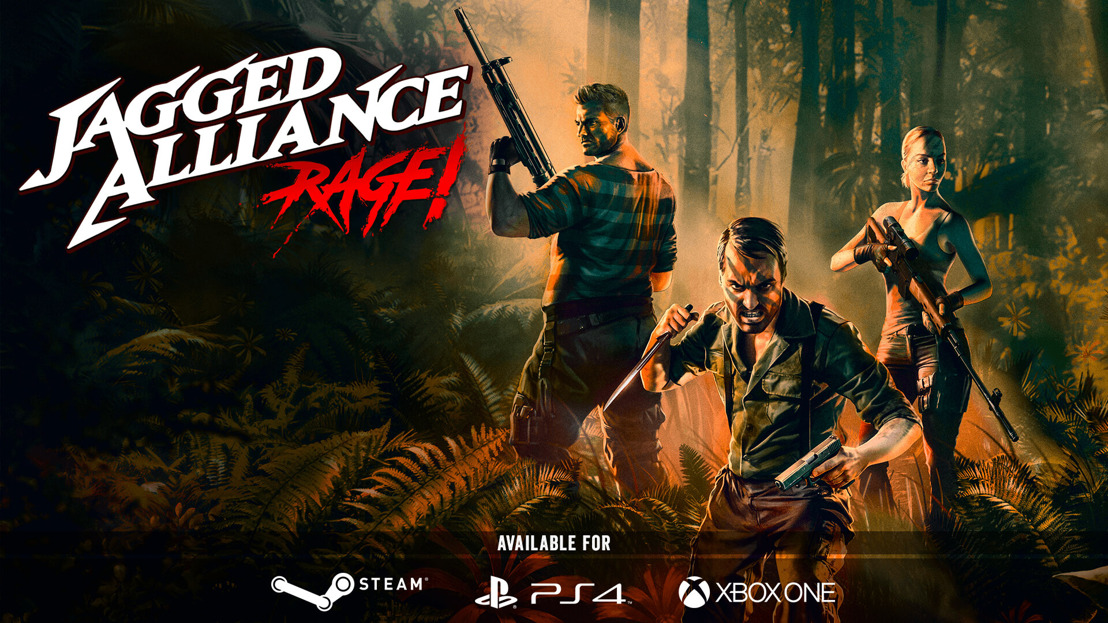 Jagged Alliance: Rage! out now on PC and consoles
Get into the jungle!
Vienna/AUSTRIA, December 6th, 2018 – "Silent night … sniper shot … no alarm, all still calm. Four more steps and ending your turn ..." Rejoice in the newest Yuletide carol as Jagged Alliance: Rage! brings tactical jungle warfare to the holiday season this year. As of today, gamers on PC, PlayStation®4 and the Xbox One family of devices including Xbox One X can resume the roles of the beloved Jagged Alliance mercs in a brand-new adventure set 20 years after the original game.
Pulled out of retirement to clean out a jungle filled with brutes who are definetly on the naughty side of Santa's list, Ivan Dolvich, Helmut "Grunty" Grunther, Charlene "Raven" Higgins and more of the old Jagged Alliance crew must battle through a hand-crafted campaign filled with twists and turns.
Supporting both solo and two-player online co-op play, Jagged Alliance: Rage! is a spin-off bursting with outlandish characters, explosive gunplay, tactical stealth and even experimental drug powers. The SRP for the PC version is £15.99 / €19.99 / $19.99, and the console editions have an SRP of £26.99 / €29.99 / $29.99.
About Jagged Alliance: Rage!
​Jagged Alliance is back – With a new take on turn-based tactics, adventure elements and the well-known quirky mercenaries! Set 20 years after the first Jagged Alliance, this spin-off lets you experience a road trip into a jungle hell to test your mind and body to the limits! This time it's just you and a few allies versus an entire island ruled by a drug overlord and his crazed army.The Features:
2 Player online co-op mode

Deep turn-based tactical gameplay mixed with adventure elements

Choose a variety of tactics ranging from stealth to brute force

Strong character personalities with own skills, desires and personal conflicts

Rage skills: Unique character abilities that get more powerful over the course of the battle

Powerful Commanders coordinate enemy troops on the battlefields

Face terrifying experimental drugs and use them to manipulate your enemies