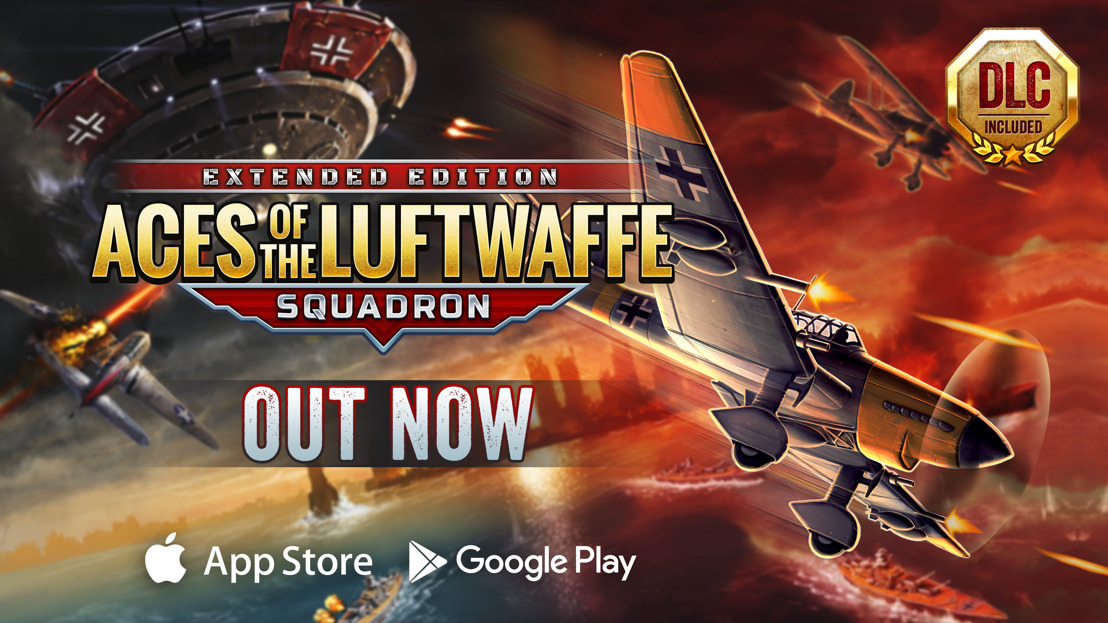 Mobilize your Squadron!
The action packed alternate history World War II shoot 'em up Aces of the Luftwaffe – Squadron is out now for iOS and Android.
Giebelstadt, Germany, February 27th, 2020: Shoot 'em up on mobile devices now!
The extended mobile edition includes the entire "Nebelgeschwader" DLC which adds a second full length campaign, including a thrilling story line with fully voiced cutscenes adding up to a total of 50 levels of narrative driven single player awesomeness.
Experience both sides of the Story! The Allies campaign "Squadron" has you stand against a German invasion of the US-Homeland. Alongside your wingmen, you will fight your way through 25 levels, including six spectacular boss encounters.
Switch factions and experience the entire Axis campaign "Nebelgeschwader" as a part of the same-titled German elite squadron. Hellbent on bringing doom to the American forces, you will soon find out that you are merely a pawn in a great cruel scheme – a fact no honorable pilot would accept! The add-on comes with another set of 25 levels, new aircraft and skills to unlock, a unique storyline and six astounding boss fights.
About Aces of the Luftwaffe - Squadron
​Aces is an action-packed SHMUP with a narrative brought to life by talented voice actors. Experience a total of 50 levels, defeat waves of enemies, take on 12 epic bosses and upgrade each of the unique characters in your squadron via personal skill trees.
Features:
Action packed shoot 'em up with explosive visual effects

2 captivating storylines with fully voiced characters

50 levels and plenty of challenging side missions

12 spectacular boss fights

Unique AI that will follow your orders

Companions with personality: 8 unique main characters

Skill trees with individual abilities for each wingman and woman

20 unlockable aircraft with various advantages and drawbacks

Challenging achievement system

Epic, cinematic orchestral soundtrack

HandyGames Publisher