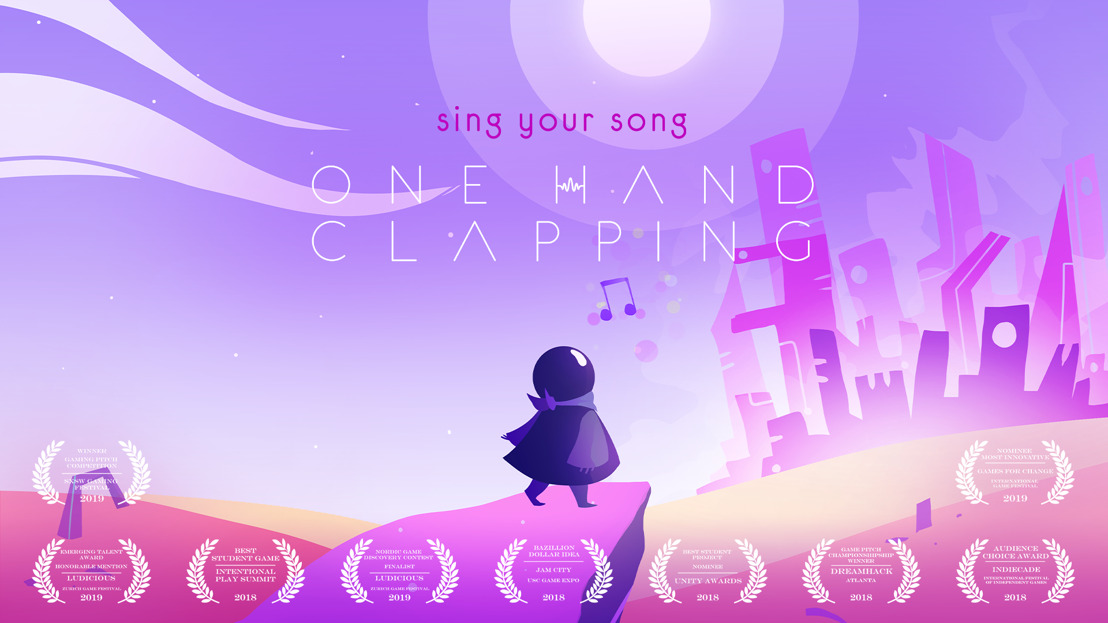 Sing To Win: HandyGames to Publish One Hand Clapping
A truly unique 2D musical puzzle platformer with voice control
Los Angeles, California / Giebelstadt, Germany, July 3rd, 2019:
​
​Come, sing a song of joy,
​'cuz HandyGames and Bad Dream Games will work as one.
​Sing, sing a song, oh boy,
​to bring you a game of musical fun.
​
​It's a platformer, that's for sure,
​but the controls are a little obscure.
​Don't be afraid, instead, rejoice,
​you move and dance and solve riddles with your voice!
​
​Face many puzzles while you play,
​but simply sing, and be on your way.
​Colorful environments and four hours of gameplay,
​you want to see a famous influencer try it? Well, you may:
​
​Have a look at JackSepticEye, trying One Hand Clapping: https://www.youtube.com/watch?v=p3f5vFN2IME
​Watch the latest Trailer:
Yes, we definitely have a lot to learn from One Hand Clapping in terms of voice control or rhythm. For all of you, who are not in the mood for singing our press release out loud, here are the bare facts:
​
​Los Angeles based studio Bad Dream Games and German publisher HandyGames, a THQ Nordic family member, have signed a publishing deal for the award-winning indie hit One Hand Clapping. The game's demo has already made some of the world's biggest influencers sing, among them PewDiePie and JackSepticEye.
​
​In One Hand Clapping, you roam through an artfully crafted 2D world and interact with your environment through your voice alone. You can yell, cry or sing as you encounter a variety of musical puzzles along the way, where the control over your voice becomes the key to solve them. The game offers a 4 hour long story campaign (that's more than 3 times longer than Beethoven's Symphony 9 or about 100 times longer than this week's number #1 in the Billboard charts "Old Town Road" from Lil Nas X), and 6 different biomes to discover in the world, such as the desert, the city or the sea. The game's Educational Mode will allow you to train your singing and learn more about voice control and music theory - if you become a famous singer because of our game, you'll owe us free tickets to your show!
One Hand Clapping is currently in development for PC, Xbox One, PlayStation®4, Nintendo Switch™, Android and iOS. The release is scheduled for 2021.
About One Hand Clapping
​One Hand Clapping is a 2D puzzle platformer that invites you to sing into your microphone to solve musical puzzles and discover the power of your voice as it changes the world. This exceptionally unique game provides you the freedom to express yourself through its mechanics, helping you build confidence in both your singing voice and the voice within you. The world of One Hand Clapping is full of vibrant landscapes and mysterious characters portrayed through a warm, minimalist aesthetic that inspires self-expression without overwhelming the senses. All you need is a microphone, headphones, and your voice to play!
​
​Features:
Escape the judgemental eyes of Silent City's hostile inhabitants

Wander through six expansive, multicolored biomes and sing to change the world

Sing along with three whimsical hermits throughout your musical journey

Enjoy four hours of creative and cacophonic gameplay

Play Educational Mode to train your voice
About Bad Dream Games
​Bad Dream Games was formed in 2018 after the viral success of the One Hand Clapping demo, a student-made project from the University of Southern California. At Bad Dream Games we are creating a new way to play, as well as a new way for our players to create. We make games that fuel creativity and engage players beyond just the limits of their controller, and it all starts right now with One Hand Clapping. Bad Dream Games was founded by Thomas Wilson and Zach Lower, who will be acting as Creative Director and Lead Designer on One Hand Clapping respectively. You can follow the development on the official Bad Dream Games Twitter account.
​
​PR Contact:

Florian Emmerich PR Manager, HandyGames