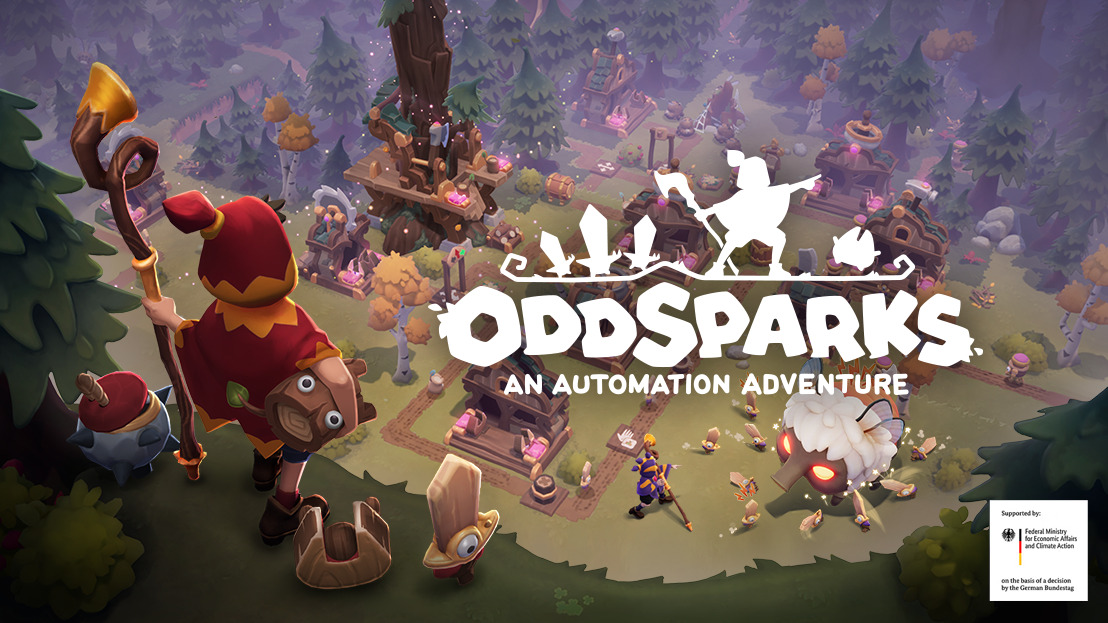 Spark your imagination
Massive Miniteam gives a first glimpse into their newest project - Oddsparks: An Automation Adventure 
Cologne, Germany / Giebelstadt, Germany, August 16th, 2023: Nothing beats the satisfaction you get from watching something you have planned and built working like a well-oiled machine. Automation games are perfect for scratching that itch, giving you that rewarding feeling when you bring order into chaos. Oddsparks: An Automation Adventure seeks to deliver a great entry point to the genre while also offering a fresh take for more experienced players.
Oddsparks is set in a procedurally generated fantasy world that invites you to explore its diverse biomes and uncover the mysteries from the past - alone or together with friends. Learn the ancient practice of creating Sparks, magically animated beings that are not just odd and adorable but will help you gather resources and become an integral part of your automation process. As you build workshops, they will assist you with manufacturing, refining, and transporting everything you want to create. Instead of conveyor belts, you create a network of paths for your Sparks to walk on and carry resources from one workshop to the next. And when you feel strong enough, you can lead your squad of Sparks into combat!
FEATURES
Play in single-player or online co-op with a simple host & join system to jump in and out of any friend's game.

Designed for both gamepad and mouse & keyboard play.

Designed with an accessible core that's further backed up by accessibility features, such as the ability to rebind both mouse & keyboard and gamepad controls.

Customize your character's look to show off not just your fashion style but your play style as you unlock new customization options via achievements and play.

Build an expansive automation & logistics network that deals with both distance and elevation. Use powerful path add-ons and more to give logistical instructions to your Sparks. Create huge networks to carry your items and Sparks places!

Complete quests from your fellow villagers to unlock new buildings for your workshop and see the village change as you explore procedurally generated worlds with diverse and distinct biomes, unusual enemies, and forgotten ruins.

You can pet the Sparks!
Oddsparks: An Automation Adventure will soon enter Early Access on Steam and the Epic Games Store, allowing players to become a part of the development process and help shape the future. Join the Oddsparks community on Discord and stay tuned for more updates on the official Early Access start.
Oddsparks is being developed by Massive Miniteam, published by HandyGames, and supported by the Federal Ministry for Economic Affairs and Climate Action.
---
About Massive Miniteam
Massive Miniteam is a motivated and highly creative development team working with HandyGames on several titles like their co-op multiplayer mayhem Spitlings, the console ports of Little Big Workshop from Mirage Game Studios, and Chicken Police from The Wild Gentlemen. The Pulheim-based game studio is also keen on working with new technologies and focused on creating new game titles based on its own and external IPs.
WEBSITE | DISCORD | INSTAGRAM | TIKTOK | X | YOUTUBE | TWITCH
---

HandyGames Publisher