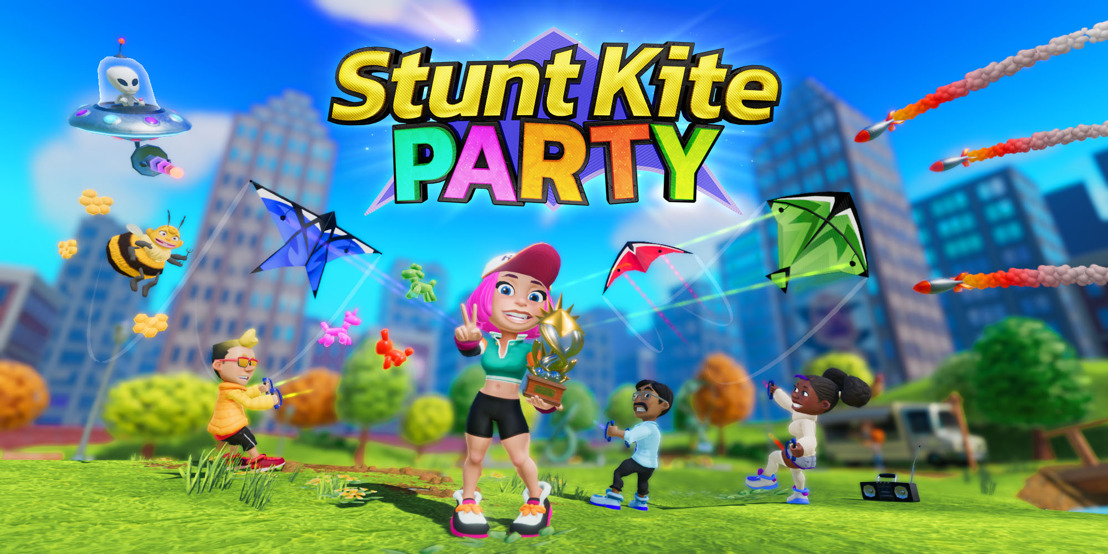 Stunt Kite Party announced for Nintendo Switch™
HandyGames announces new up-to-4-player party game
Giebelstadt, Germany, January 17th 2019: Time to bomb your friends, fight off some aliens or steal the honeycumbs from a bee! What on earth has this to do with a Kite game? Find it out on February 8th, when Stunt Kite Party arrives on Nintendo Switch™. Featuring a full single-player story mode as well as four player local multiplayer, you can play 10 crazy game modes, create your own tournaments and show who's the best kite pilot. Ever.
In the story mode, you take on the role of a young and very gifted pilot, who has just arrived in the Big City to discover that kiting is against the law. An intolerable situation, you need to set out and make new kiting friends, use your smarts and eventually convince the Mayor to let the kits fly again.
Stunt Kite Party is developed and published by HandyGames. It will be available on Nintendo Switch™ on February 8th, 2019 for €9.99 / $9.99 / £8.99.
---
About Stunt Kite Party
​Stunt Kite Party is an easy to learn but hard to master party game for up to four players. In ten different game modes, players compete against each other. Game modes include controlling your kite while carrying a bomb and knocking your opponents out of the sky, avoiding being shot down by an alien space ship or stealing honeycombs from a bee. What mode you want to play? Up to you. Either you enter a predefined tournament, or you can create your own challenges for you and your friends. You have different characters to play as, different skins, a variety of kites to unlock and a story mode if you want to play alone.
FEATURES
Exciting story mode

10 challenging game modes

Compete in predefined or custom tournaments

Single and multiplayer matches with up to 4 players

4 idyllic levels to kite

Unlock additional characters, kites, and skins