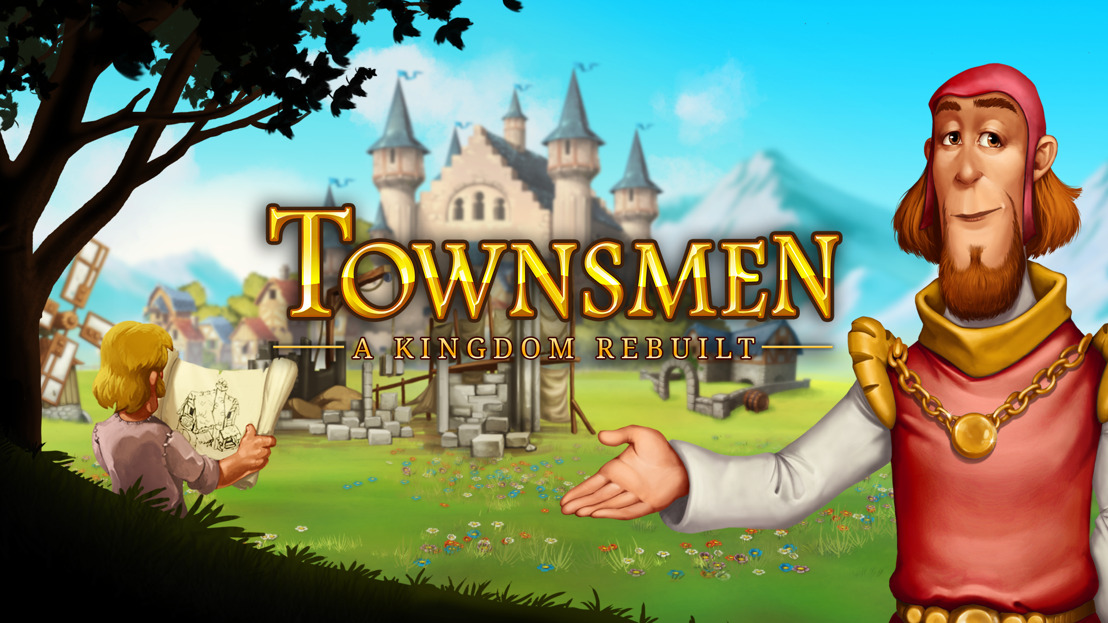 Take the crown: Townsmen - A Kingdom Rebuilt out now!
Lay the foundation stone of your medieval metropolis
Giebelstadt, Germany, February 26th 2019: Thousands of loyal Townsmen are living a happy life. They have enough food, enough drinks, they are well entertained and have access to multiple goods they need for a good life. They are safe from illnesses and fire, they don't have to worry about bandits, as the brave soldiers of the guard are watching over them. Their city is huge and vibrant, it's rich and mighty. Because of your great rule...
Or will the city have a different fate? It's all in your hands with Townsmen - A Kingdom Rebuilt, out now!
This improved and remastered version from the iconic Townsmen series comes with a long list of features: 24 maps for the sandbox mode stand next to 26 scenarios, so it's up to you if you pick your own tale and turn a barren pile of grass into a gigantic city or face a predefined challenge. A new, 6-mission-long tutorial will make your first steps as a ruler as smooth as fine silk from the tailor's shop. Research over 70 technologies and construct more than 150 buildings and objects.
Townsmen – A Kingdom Rebuilt is available now on PC. The price is 19,99 € / 19,99 $ / 16,99 £ but the game will be added free of charge to all existing owners of the original 2016's Townsmen. Townsmen – A Kingdom Rebuilt is developed and published by HandyGames, a THQ Nordic company.
---
About Townsmen – A Kingdom Rebuilt
​The medieval metropolis builder gets a mighty overhaul on the PC. Grow your tiny village into a grand medieval empire with a thriving economy and happy villagers. Find spots for mining ore, harvest the crops of your farms and collect coins as taxes from your folk. Build jousting fields, taverns, marketplaces and beautify your city with impressive statues, magnificent monuments and lush gardens. As you do so, be aware of dangers: bandits are never far away, looking to plunder and pillage peaceful towns. So don't forget to erect barracks, guard towers and recruit brave soldiers to protect your citizens from harm, too. You rule the entire empire from your castle, and making sure your inhabitants have fun, stay happy and remain safe.
​
​Features:
City-building gameplay set in medieval times

Inhabitants with their own daily routines

New voice over language for livelier interactions, created from Finnish & Volapük

Complex economy sim and deep production chains

Over 150 different town and production buildings

Optional military feature with soldiers and bandits

Seasons and weather effects with actual impact on gameplay

Devastating disasters like fire, disease, drought and many more

26 diverse scenarios and challenging tasks

Unrestricted sandbox gameplay on 24 maps

Florian Emmerich PR Manager, HandyGames