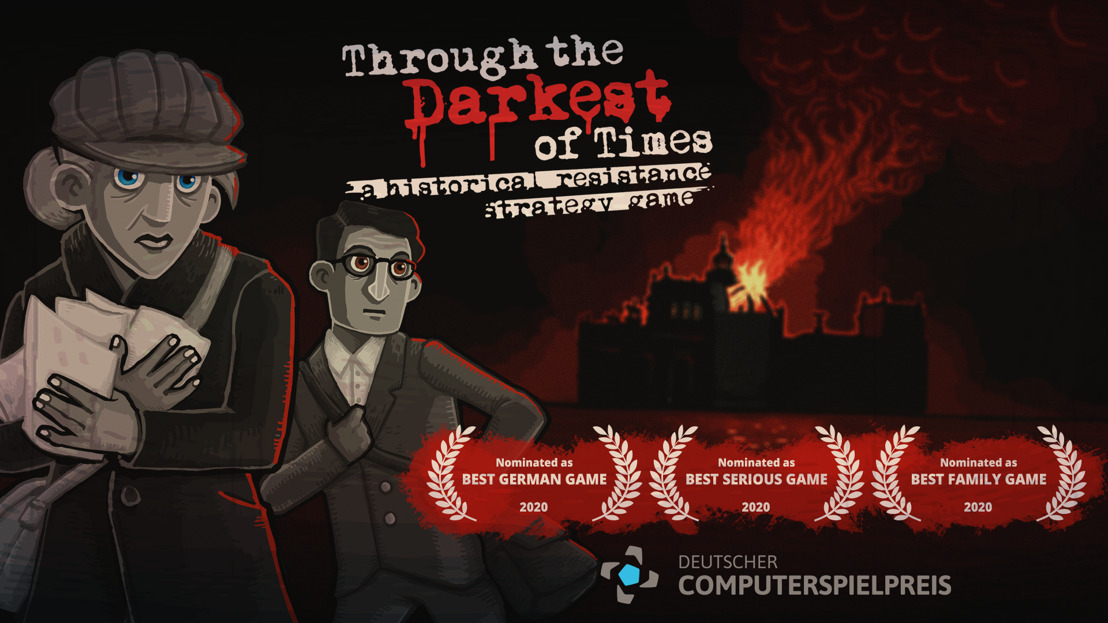 THREE nominations at the "German Games Award"!
Giebelstadt, March 30, 2020: Let's have a virtual "cheers" together. The nominees for the German Computer Game Award 2020 (DCP Website) have been determined after 40 experts from the main jury conferred via video call. The jury determined the winners and nominees from a pool of 315 submissions.
And now it's official! We are represented in the final round of 3 categories:
Best German Game
Best Serious Game
Best Family Game
"We know that this award is one of the most important in the German games industry and we are really proud of our team and our developers for having achieved this tremendous success. A big thanks to the jury that we are represented in the final selection for this renowned award! ​ We can hardly believe that we are nominated in 3 categories with "Through the Darkest of Times" from our developer Paintbucket Games! Of course, we are happy and honored that this fantastic and sociopolitically relevant title is getting the attention it deserves." (HandyGames)
Besides being thankful, we would also like to use this message to congratulate our dear colleagues for their nominations! We are all part of a strong and ever-growing industry. Every nominee deserves this award and we're excited to see how the results will go. Good luck to all of you!
"We are thrilled to be nominated three times at the DCP with Through the Darkest of Times! It shows that games with new and serious topics can also be widely recognized." (Paintbucket Games)

About Through the Darkest of Times:
Through the Darkest of Times is a historical resistance strategy game. The game's focus lies on conveying the grim mood of the period and the very real struggles of average people living in the 3rd Reich. Historical accuracy means that a small group of resistance fighters will not change the outcome of the war, nor will they prevent all of the Nazi's atrocities, but they will certainly do everything in their power to save as many lives as they can and inhibit the fascist system whenever possible.
Through the Darkest of Times is developed by Berlin-based Studio Paintbucket Games and is published by HandyGames, a THQ Nordic family member. The game was released on January 30th, 2020 for PC and MAC.
Cinematic Trailer:
About Paintbucket Games:
​Paintbucket Games was founded by two ex-AAA developers, Jörg Friedrich and Sebastian St. Schulz, to be able to make more relevant games. They met at YAGER, while making Spec Ops: The Line, and also worked together on Dead Island 2, Dreadnought, Albion Online, Drakensang, Yager (the game), Desperados 2 and others. Both have been making games for more than 14 years and have worked 10 of those years together. Since 2018, they are being published by HandyGames and the size of the TTDOT team has since increased in size.

HandyGames Publisher