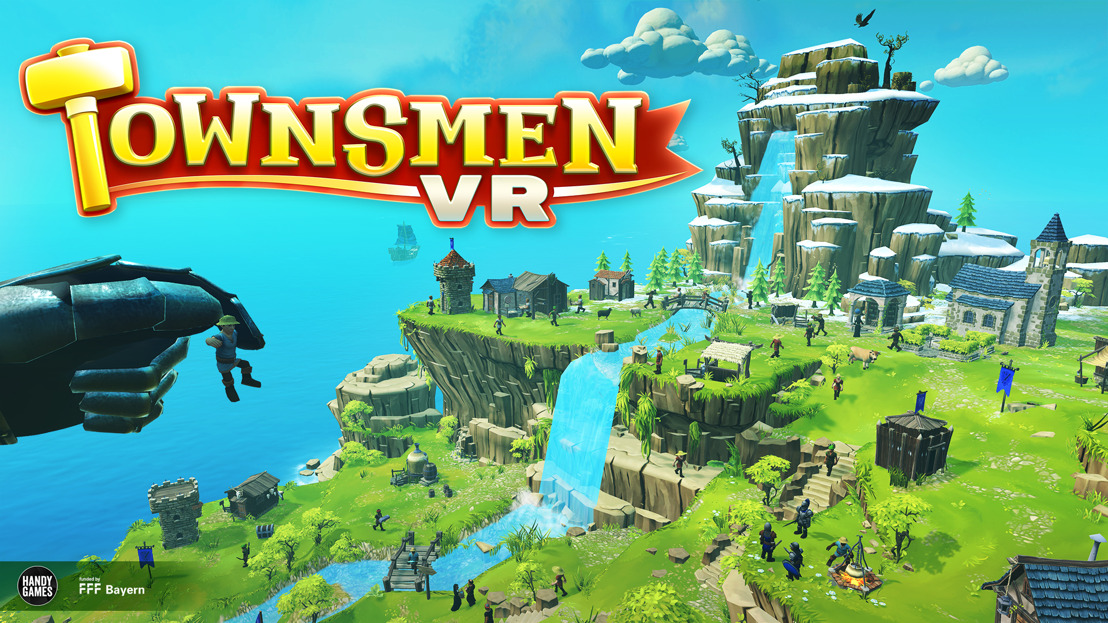 Townsmen VR is available now on PlayStation®VR2
Get ready to build the medieval city of your dreams
Giebelstadt, Germany, February 22nd, 2023: Our Townies have found a new home on your PlayStation®5 (PS5™) console. Experience Townsmen VR like you never have before with the brand-new PlayStation®VR2 headset and the unique haptic capabilities of the PlayStation VR2 Sense controller.
Townsmen VR gives you the god-like ability to hover above your island and control the fates of your inhabitants from a bird's eye view or zoom in to see your city from their perspective. Give orders and watch as your Townies execute them or take a more hands-on approach helping them directly with their daily tasks. Townsmen VR is fully interactive, meaning you can touch, feel and use almost anything in the game world. Brush over the forest and feel the tree tops tickle your hand, blow at the windmill to make it turn faster, or roast a fish over the fire. The choice is yours.
A fully voiced ensemble cast of characters will help you in the campaign to get your first villages off to a flying start and once you have mastered the systems, an endless sandbox mode will let you build to your heart's content. Not everyone is friendly though, so you'll need to train soldiers and defend your island against foes.

Townsmen VR is available NOW, for PS VR2 on your PS5 system and will be sold as both a digital and, thanks to THQ Nordic, a physical version for USD 39,99 / € 39,99 / £ 34.99
Get it today via the PlayStation™Store Or via Amazon: USA, UK, Germany, France, Italy
About Townsmen VR:
Townsmen VR uses the exciting possibilities of virtual reality to further enhance the classic city-building genre through an entirely new gameplay experience and interactive mechanics. The game combines elements of a God-game simulation and a classic building game with the interactive possibilities of VR controls. Whether from a bird's eye view or zoomed-in close, you will always experience the action from the proper perspective.
Start with a small settlement and expand your might over a world of 13 different islands and archipelagos. Filled to the brim with exciting features, gizmos, and things to lay your virtual hands on. Build more than 20 unique buildings and upgrade them. Immerse yourself in a thrilling story with many exciting quests, or play without restrictions in the sandbox mode with goals set by you. Hours of fun are guaranteed!
Intuitive control of the environment helps you move about – you can literally crawl over the island or move your viewpoint as you would position your images on your smartphone. You'll get accustomed to ruling your empire very fast.

HandyGames Publisher