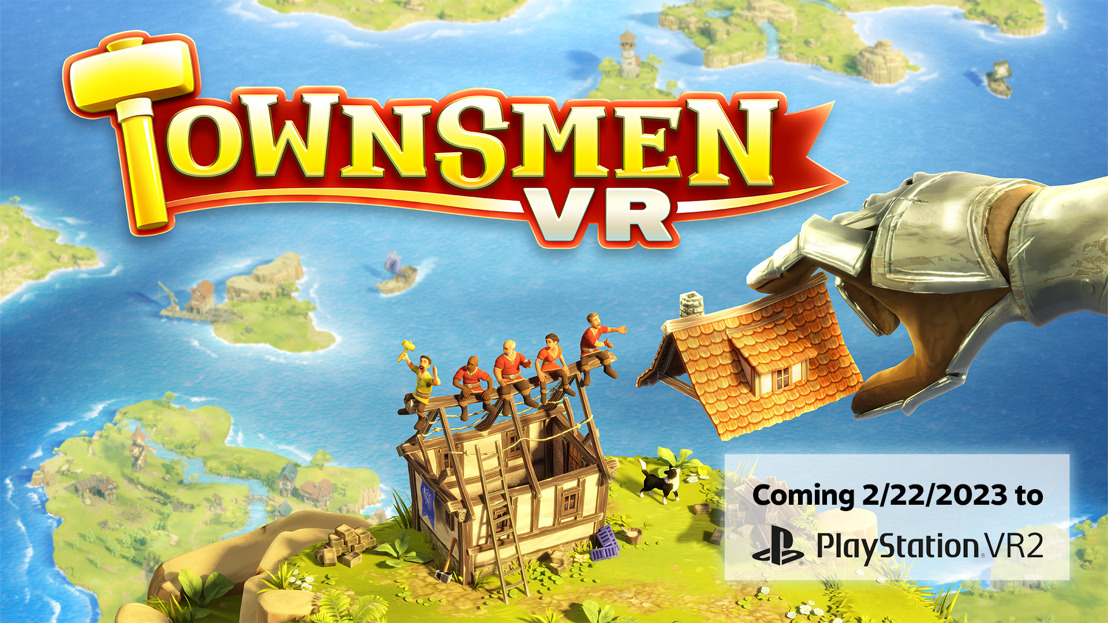 Townsmen VR is coming to PlayStation®VR2
HandyGames' God Game - City Builder releases on February 22nd, 2023
Giebelstadt, Germany, January 24th, 2023
​Townsmen is HandyGames' longest-running IP spanning well over a decade and dozens of versions across countless devices. Needless to say, we love our Townies, so it was an easy decision to give them a home within the virtual reality realm. And what better way to bring them to life than with the upcoming PlayStation®VR2 headset? Leveraging the power of the PlayStation®5 (PS5™) console and the unique haptic capabilities of the PlayStation VR2 Sense controller, our builders, farmers, hunters, and soldiers feel more lifelike than ever before.
​Townsmen VR will be available on February 22nd, 2023, for PS VR2 on your PS5 system and will be sold as both a digital and, thanks to THQ Nordic, a physical version.
Pre-order today via the PlayStation™Store
​Or via Amazon: USA, UK, Germany, France, Italy
About Townsmen VR:
Townsmen VR uses the exciting possibilities of virtual reality to further enhance the classic city-building genre through an entirely new gameplay experience and interactive mechanics. The game combines elements of a God-game simulation and a classic building game with the interactive possibilities of VR controls. Whether from a bird's eye view or zoomed-in close, you will always experience the action from the proper perspective.
Start with a small settlement and expand your might over a world of 13 different islands and archipelagos. Filled to the brim with exciting features, gizmos, and things to lay your virtual hands on. Build more than 20 unique buildings and upgrade them. Immerse yourself in a thrilling story with many exciting quests, or play without restrictions in the sandbox mode with goals set by you. Hours of fun are guaranteed!
As the population of your empire grows, so does the demand for food and goods. Production chains help you meet this need. When you build farms, you can grind the grain harvested there at the mill and bake delicious bread for your Townies using the flour. Your windmill won't operate when the winds are calm? No worries, give the mechanism a push. Slap that lazy dude with a fish, or help your citizens collect about 20 different raw materials. Do you want to see the world you helped create from the view of a townsman? Use your godly powers and scale yourself to experience your town at eye level with your townies.
Farm animals such as cows, sheep, and chickens provide you with essential resources to produce food. Your hunters will find rabbits and deer to stalk. You have to be careful of wild animals like wolves or bears that you encounter! Seagulls are eager to steal your catch, while the crows caw above the battlefields and eagles fly freely high up in the sky.
In time you should also begin to hire soldiers to defend your realm against intruders and enemy forces! Besides different types of soldiers, you can use heavy artillery: A catapult can punch devastating gaps in the enemies' ranks! And should you run out of boulders, remember: everything you can lay your hands on can be used as ammo! But the enemy kingdom is not the only problem your soldiers will have to face. Some islands are occupied by sinister pirates who are after your precious resources!
Intuitive control of the environment helps you move about – you can literally crawl over the island or move your viewpoint as you would position your images on your smartphone. You'll get accustomed to ruling your empire very fast.
Most of the islands you visit during the campaign can be unlocked for open sessions in sandbox mode. You'll be able to choose whether you want to play entirely without constraints or give yourself a bit of excitement and accept the challenges of your choice. Determine the number of townies you start the game with, defeat all opponents or fight against thieving pirates – the various settings offer you enough freedom for your personal gaming experience!
Features:
A fully-voiced campaign and story arching over 13 islands

Upgrades and add-ons for buildings

Research for further upgrades

Animals like cows, sheep, chickens and wild animals roam the islands

Build a harbor to have a trader's ship and begin treasuring up riches

Buy things at the market instead of harvesting (if you have the gold, of course)

Reach out and build some bows and crossbows for your soldiers

Deal with pirates and shady merchants

Get creative: Sandbox mode for unlimited god action
PlayStation®VR2 Exclusive:
Haptic feedback for PS VR2 Sense controller lets you feel the environment, weather, pets, the ocean, and more firsthand
Dive in (literally) head first and experience earthquakes with haptic feedback for the PS VR2 headset

Finger touch detection allows you to push around your Townies with unmatched precision

Feel what you're holding in your hands with Adaptive Triggers
Townsmen VR will be available for PS VR 2 on February 22nd, 2023

Get the Townsmen VR presskit here!

HandyGames Publisher